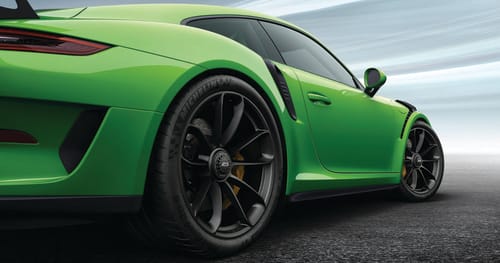 If you're ready to add some wow-factor to your car or truck, new, head-turning wheels are one of the fastest ways to get you there. Thanks to advances in wheel and rim technology, a wide variety of looks are available, from sporty to elegant to futuristic.
Even better, if you're craving the look of a sporty or exotic vehicle you've seen, you can personalize your ride with the look you love through custom options. At Tint World® Automotive Styling Centers, we have a massive variety of custom rims and tires to choose from, and our Nano Ceramic Coating for wheels can help protect your investment! Here are some of our picks for looks you can emulate.
Volkswagen Jetta GLI
When it comes to factory wheels, we've got to say we're fans of the 18-inch twin five-spoke machined alloy wheels on the 2020 Volkswagen Jetta GLI. This open pinwheel design looks hot at rest or in motion.
Giulia Quadrifoglio
Speaking of open design, the 2020 Giulia Quadrifoglio Nero Edizione Package has an open and elegant set of wheels. These beauties are 19-inch dark miron aluminum, and they're simply stunning.
Rimac C_Two
You can't get much more futuristic than the Rimac C_Two all-electric hypercar. From the butterfly doors to the dynamic interior, this car packs a dramatic punch, and the wheels are part of the package. And they're specially designed for peak aerodynamics, too.
Porsche 911 GT3 RS
We love eye-catching wheels like the ones on the Porsche 911 GT3 RS, especially in the signature bronze color. These forged alloy wheels are specially designed for performance motorsports.
Whether these hot cars have caught your eye or you've got another look in mind, Tint World® has plenty of wheel and tire options for you. Just contact your local Tint World® to find out more.