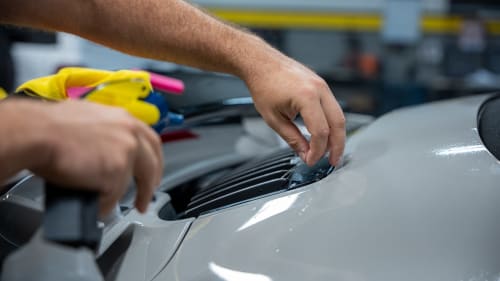 Most vehicles take a lot of abuse. Many of them show the wear and tear that accumulates over time as a result of dirt, debris, and UV exposure. A special few look like they've never been off the showroom floor.
If you're tired of dealing with dings and dents and want your car, truck, or SUV to look like it did the day you drove it home, consider Tint World®'s comprehensive range of the industry's leading paint protection film.
The unfortunate truth is that modern exterior finishes can't match the stress of daily driving. Multiple hazards are lying in wait to inflict minor damage that adds up over months and years. Without additional protection, the deep, glossy shine you fell in love with can gradually become dull and unsightly.
Even worse, a compromised exterior paint job isn't just about looks. Corrosion and oxidation can detract from your vehicle's performance and reduce its resale value.
But there's good news. Tint World®'s nearly undetectable paint protection film can protect your vehicle's finish from gravel and debris, road salt, UV exposure and even insects. Our advanced technology works as an invisible shield against the elements, protecting your investment and ensuring you get maximum enjoyment out of your automobile for years to come.
Tint World® paint protection film offers extreme resistance to scratches, chips, and discoloration, with incredible self-repair properties that can, in the right conditions, elevate its performance to a new level. And combined with our specially formulated Nano Ceramic Coating, Tint World® paint protection film delivers the most powerful protection available.
Still wondering if Tint World® paint protection film is the right solution for your vehicle? We offer a nationwide manufacturer's warranty and options for every budget and lifestyle. So visit the nearest Tint World® location to find out more about the ultimate protection for your vehicle's exterior.