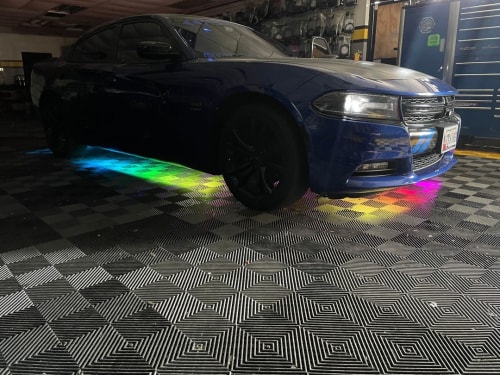 Major advances in technology and style have made automotive lighting one of the most impactful enhancements drivers can make to their vehicles.
At Tint World®, we offer a nearly endless range of options that can boost the safety, performance, and look of your automobile, as well as complement any other personalized aftermarket upgrades you choose. Whether you're looking for high-powered visibility or want to make a dramatic personal statement, we have the advanced lighting products to meet your needs.
Tint World®'s comprehensive automotive lighting packages and service include:
Exterior car lighting: We have hundreds of color combinations to illuminate your vehicle's underbody, grille, and wheels. And with smartphone control, it's simple to coordinate multiple colors that can bounce to your car, truck, or SUV's audio system.
Interior car lighting: Tint World® offers a wide range of color combinations so you can celebrate your own personal style. And just like our exterior lights, our interior packages can be controlled remotely by smartphone.
HID headlights: HID headlight kits provide automotive lighting that is three times brighter and lasts 10 times longer than standard halogen car lights. On top of that, you can select from a variety of color and brightness options.
LED headlights: These innovative products are the next frontier of automotive lighting technology. Their industry-leading brightness and efficiency deliver outstanding results.
Smart headlights: By continuously analyzing driving conditions, weather, time of day, and more, adapting lighting levels automatically. By sensing oncoming cars, smart headlights can automatically adjust brightness to give you the illumination you need without distracting oncoming drivers.
In addition, Tint World®'s professional technicians remain the best in the industry, so you can be confident you're getting superior professional service and installation.
Whether it's safety or style you're interested in, Tint World®'s premium lighting products and service can keep your vehicle ahead of the pack. To learn more, visit the nearest Tint World location.