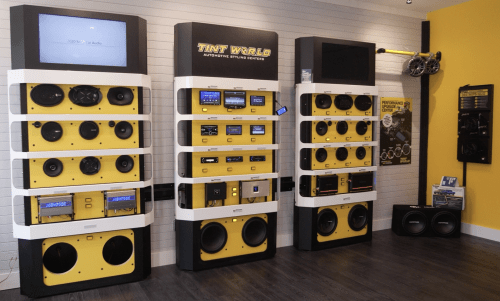 Don't let a basic factory audio system bog down your driving experience. With Tint World®'s comprehensive selection of premium automotive audio and video equipment from the industry's most trusted brands, it's easier than ever to create the right stereo for your lifestyle and budget.
As the audio and video experts since 1982, we offer everything you need for maximum sound. From basic upgrades to full-blown competition systems, Tint World® has the right products, the right service, and the right installations – all at the best price. And as technology for audio in your car, truck, or SUV continues to advance, we're on top of the trends and tools that can keep your stereo experience seamlessly integrated and on the cutting edge.
Our full range of audio components and vehicle electronics options include:
In-dash receivers: Is your vehicle a little older? Upgrade your older vehicle with an up-to-date in-dash receiver and get critical features like GPS navigation, streaming compatibility, and visual guidance options.
Speakers: Add full, rich sound to any system with a simple upgrade or full-on custom installation.
Amps and equalizers: Elevate the power and sound quality of a basic factory system with our extensive selection of amplifiers and equalizers.
Subwoofers: Boost the bass with a basic upgrade of a full customized subwoofer enclosure component system designed to fit in any vehicle. It can be compact, under-the-seat version or a larger box suitable for trunk or hatchback areas.
It's not just the products we offer that set Tint World® apart. You'll be in good hands with our professional electronic technicians, who are trained in the latest installation best practices for hi-tech aftermarket audio and upgrades.
If you're ready to revamp your audio, visit the nearest Tint World® location for more information or to book an appointment.