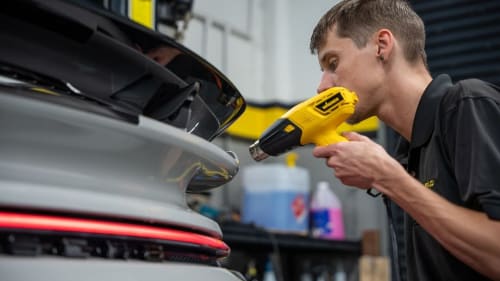 One of the best arguments for installing automotive paint protection film is long-term value. Investing in the advanced protection of high-quality, professionally installed PPFs means you'll spend less down the road to preserve and restore your vehicle's showroom finish. Additionally, taking care of the exterior finish helps your vehicle hold its resale value.
You might hear similar arguments in favor of DIY paint protection film installation. Accept those arguments at your own risk.
DIY installation is typically cheaper up front than a professional job. But unless you have the right experience and resources, it may cost more in the long run. A lot more.
With a poorly installed paint protection film, you'll likely still have to spend money on repair and restoration of your vehicle's finish. Not only that, you'll have to pay to have it removed. One you learn your lesson the hard way, you still have to shell out for the pro job you tried so hard to avoid.
Here's what you need for a successful DIY PPF installation:
Experience: Professional installation involves more than just attaching the film. Expert installers will help you identify the right PPF product for your car, truck, or SUV, taking multiple factors into consideration: climate, the vehicle's model, make and age, your driving style and budget. And when it comes to applying PPF, pro installers are trained in the latest techniques and technology for getting the perfect fit that will last for years.
Tools: Another advantage pro installers have is the right equipment. Cutting, applying, fitting and securing paint protection film requires specialized tools and other supplies that you won't find in the typical family garage. And they know how to use that gear. Do you?
Environment: Speaking of garages — do you have a large enclosed space with climate control, ventilation, commercial-quality lighting, and storage to work in? You'll need all that if you want to apply PPF to your vehicle without dust, dirt, and other debris getting trapped between the film and the finish you're trying to preserve.
Some people actually have everything they need to apply PPF to their vehicle. But you may be starting to see the lasting value professional installation offers.
At Tint World®, we have you covered! Our trained and skilled technicians can help you find the right package for your lifestyle. And our nationwide warranty ensures your vehicle has the clearest, strongest, and most durable protective layer available.
Visit the nearest Tint World® location for more information or to schedule an appointment!