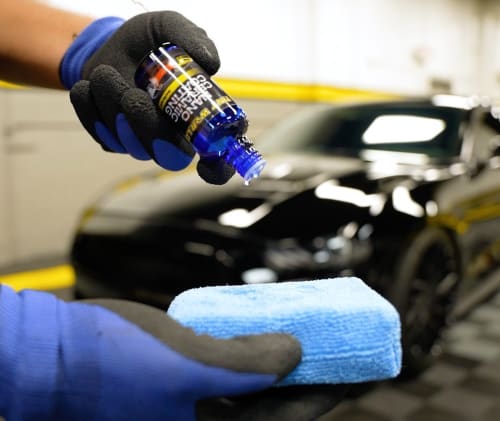 Few products offer the value and comprehensive protection you get with Tint World®'s Nano Ceramic Coating.
Our advanced ceramic paint coatings are specially formulated to act as a crucial barrier between your vehicle and the environment, providing long-lasting scratch, sun and water resistance. As the industry's premier long-term protection technology for cars, trucks and SUVs, Tint World® Nano Ceramic Coatings not only preserve your vehicle's showroom finish, they also help maintain drivability and resale value.
And Tint World®'s Nano Ceramic Coating isn't just for the outside of your automobile. Our durable ceramic solutions are suitable for an array of materials, including glass, plastic, metal, chrome, vinyl, fiberglass and leather.
That means our exclusive formulations can be applied to your vehicle's interior or wherever you need protection from the elements, whether it's your boat, RV, ATV, or firearms. You can even use Tint World® Nano Ceramic Coating to protect exterior and interior surfaces in your home!
With a 9H hardness rating, Tint World® Nano Ceramic Coating can hold its own against the toughest material in the world. Keeping dirt and debris out not only maintains the glossy shine, it helps your vehicle perform better for longer by reducing the risk of corrosion and oxidation.
The best part? This all-around protection comes with powerful hydrophobic and self-cleaning properties that make maintenance a breeze. Nano Ceramic Coating is a one-time application that keeps your vehicle shining for years to come, no wax needed.
To learn more about Tint World® Nano Ceramic Coating or schedule an appointment, visit the nearest Tint World® location.