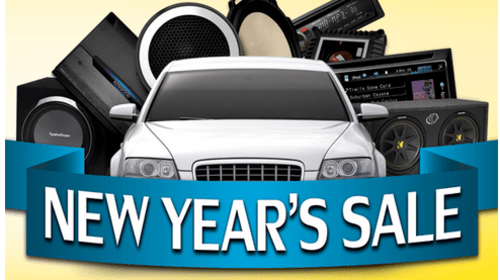 The new year is upon us, which means it's time for a fresh new look at life, along with plenty of resolutions to change and accomplish those goals you've been meaning to achieve.
Popular resolutions always seem to be losing weight, finding a new job, saving more money, or quitting a habit. That's all well and good, but you need a car to accomplish most of those things, so why not make a few resolutions for your vehicle as well? How about resolving to stop settling for your vehicle's standard factory features and customizing your ride for the new you? We're all about change here at Tint World, which is why we offer tons of automotive styling and electronics upgrades so you can take your ride and turn it into a custom 2012 edition.

Audio Upgrades:
Have you been listening to Christmas classics through a weak, fuzzy speaker system? How about this year you take your factory stereo system to the gym with a new car audio system from Tint World? For a limited time you can get free installation on any head unit over $199. You can also save up to 70% on all audio and video upgrades from 2011!
Window Tinting:
With professional window tinting from tint world you can give your car a new look along with plenty of other benefits to help you enjoy the ride in the New Year. Tinting gives your car that cool custom look, but it also keeps it cool in the hot summer months, insulates in winder, and prevents shattering when broken.
Detailing and Reconditioning:
Your vehicle might not be a 2012 model but is can still look that way. With reconditioning and auto detailing services from Tint World you can bring your car back to life for 2012 by erasing old dings and dents and restoring the interior and exterior to a like-new shine.
Car Remotes and Keyless Entry Systems:
Alarm systems and car remotes will change the way you get in and out of your car this year. Resolve to never getting into a freezing cold or boiling hot car again with remote starter systems that get your vehicle running, along with the AC or heater, with the push of a button.
It's a great time to get to Tint World and grab some fresh new automotive accessories to make any car your own custom 2012 edition. During our New Year's Sale, you can actually get up to 30% off your entire purchase with our "More You Buy More You Save" deal.