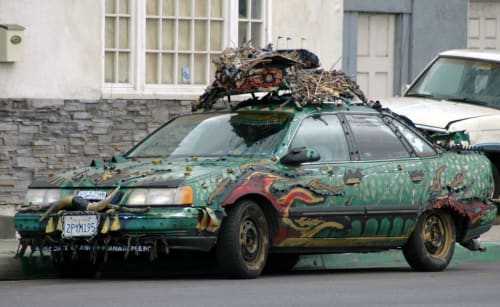 While being tacky can be fun at holiday parties and themed events, an auto owner should always take pride in their car's appearance. There is nothing worse than driving down the road and seeing a car that is a complete nightmare to look at it. Don't be that person driving in that nightmare of a car.
At Tint World®, we've seen automotive trends come and go and understand what's stylish and what's tacky. Here is a list of five automotive stylings to avoid:
Spinners: While spinners were popular in the late 90s and early 2000s, installing them on wheels is something you need to be cautious about. If you decide to purchase spinners for your wheels, make sure the spinners are real, high-quality alloy and not plastic.
Body Kits: The original idea of a body kit was to make a vehicle more aerodynamic in order to increase its speed. On the whole, the kits are actually cheaply made and do more harm than good. Before you go buying a cheap body kit online, check with professional automotive shops that can help you piece together a functional and stylish body.
Roll Cages: If you actually go off-roading or absolutely need a roll cage for another form of racing then install one on your car. Otherwise, don't get carried with investing in one, as it has been well documented that roll cages in street cars can actually be dangerous.
An abundance of decals: Placing too many stickers on your vehicle, also called "sticker booming," is a trend that has ran its course in recent years. If you want to make your vehicle look cooler— consider adding vinyl wraps instead.
Performance Exhausts: A frequent mistake amongst car customizations is installing an exhaust that is too big for your vehicle. Louder is not always better and some exhausts can actually hurt performance of your ride if they are too big. If you're looking for a new exhaust, reach out to the professionals. They can help you find the right style for you that won't hurt your car's performance.
It is always vital to do your research before purchasing any type of automotive upgrades. At Tint World®, we can help direct you in styling your vehicle so that it will look its best. Find the nearest Tint World® location in your area to receive our quality advice and services.