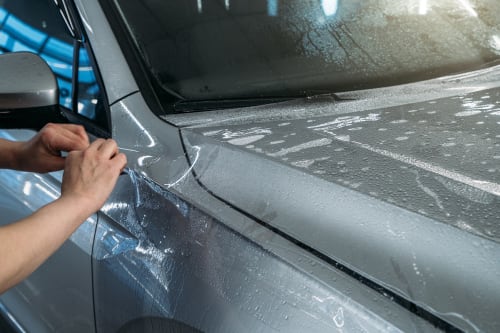 Have you ever wondered how some vehicles look like they've never been driven? You see them on the road, polished to the nines, looking like they belong in a Detroit auto show. Well, you don't have to be envious anymore – we've got the secrets to keep your vehicle looking even better!
First, let's get down to brass tacks. The truth is, your vehicle is under stress every day. Road hazards, UV rays, and even dust can, over time, damage its finish. The good news is, fortunately, there is something you can do about it. Our nearly undetectable paint protection film can protect your vehicle's finish from all kinds of everyday threats like gravel and debris, road salt and even insects. Our technologically advanced material works as an invisible shield against the elements, protecting the investment you have made in your vehicle for years to come.
Paint protection film also offers extreme scratch and chip resistance along with stain repellent properties to keep salt and other hazards from causing discoloration on your vehicle's paint job. Not only does this incredible material offer protection against nicks and dings, but under the right conditions, it can also self-heal if scratched.
And, for even more protection, you can combine paint protection film with a coating of our revolutionary Nano Ceramic Coating. This specially formulated liquid polymer chemically bonds to just about anything, including your vehicle's exterior paint job. This high-tech material is incredibly hydrophobic; it doesn't like water at all. When applied to a surface, water beads up and rolls off – taking dirt and other debris along with it. This technology also offers a protective shield against stains and corrosion.
Combining our Paint Protection Film with Nano Ceramic Coating gives you the ultimate protection duo for your vehicle's finish.
Paint protection Film carries a nationwide manufacturer's warranty so that you can buy with confidence. And with four custom packages to choose from, there is an option for every budget. Book an appointment now to protect your vehicle from all the hazards the road has to offer, and turn your garage into a showroom of your own!