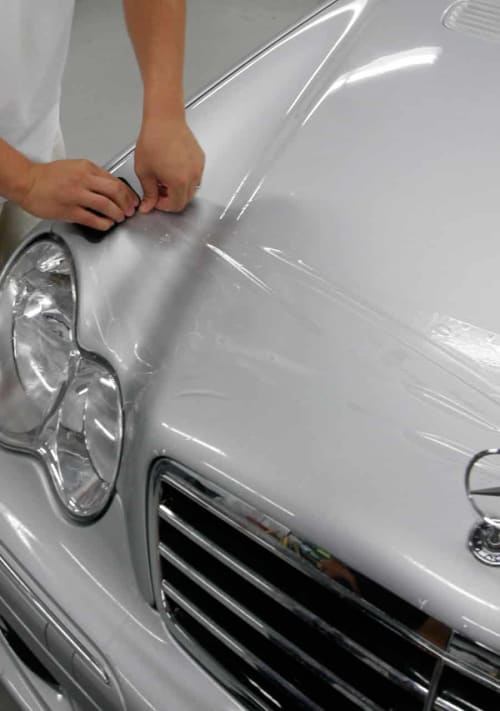 Winter has come full force this year, and we still have two more months to go. This is a great time of the year to think about ways to keep your car protected from the environment and harsh winter elements. You probably made a few New Year's resolutions for yourself, but did you make any for your vehicle? It's something you use everyday – and probably rely greatly on – so how about you show it some TLC. If being thrifty is one of your New Year's resolutions, here are some great ways you can save money by protecting your car's best assets and avoid costly replacement fees. Now that all of the holiday events have settled down, you can start thinking about how to prepare your car for 2013.

Paint Protection Film, or PPF, is the perfect way to protect your ride not only from the everyday wear and tear a car can go through, but also the winter elements. Gravel, debris, stones, road salt, and insects won't stand a chance against this 8-millimeter, precision cut film. PPF can be applied to any painted surface of your vehicle including hoods, fenders, mirrors, and bumpers, and the film is nearly undetectable. Your paint job will still look like new at the end of 2013. Everyone will want to know your secret, and you can tell them it's PPF from Tint World.

There's no question that road conditions can be worse during the winter months. Driving in the rain and snow means you should be extra careful, and use your headlights more often. When you're out on the road during the winter months, and especially at night, be sure you can clearly see what's ahead. Tint World's headlight protection film can protect your headlights from the beating they take everyday. Protection film will also protect your headlights from fogging which are caused by small hairline fractures in the acrylic.

If you're not only concerned about safety, but appearances as well, Tint World's colored headlight protection film is right up your alley. Now available in blue, yellow, and smoke colored options, stop by your local Tint World to see all the options and more information.

You can also keep to your New Year's resolution of saving money by protecting another expensive asset of your vehicle – your windshield. Flying debris and harsh weather can leave your windshield with rock chips, stars, pitting and bull's eye cracks (and leave your pockets a little emptier). Windshield film protection from Tint World adds a layer of protection and prevents everyday wear and tear. Also, in case of an accident out on the icy road, windshield protection film can hold shattered glass in place, adding another level of safety. The film also repels rain and snow giving you a clear view of what's ahead.

Your vehicle is one of your largest investments, so make sure it's ready for 2013. Contact your local Tint World today to learn even more ways to protect your car during the winter, without having to compromise on style.