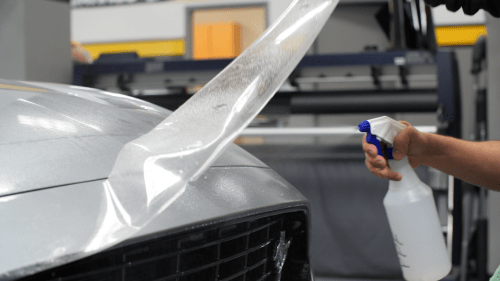 Winter can be pretty brutal on your vehicle. Snow and ice are hazardous enough, but when you add in road salt and deicing agents and wild temperature swings, things can get pretty rough. Then there's also that dreaded summer heat. Between enduring high-temperatures and powerful UV rays, unprotected interior and exterior surfaces are no match for the damages and fading that often result.
Fortunately, there's something you can do to protect your vehicle's finish. With Tint World®'s paint protection film, you get the peace of mind that comes from knowing your investment is protected with some of the best technology on the planet.
Paint protection film provides a clear barrier over your vehicle's paint, providing protection from harsh, corrosive elements like road salt or bird droppings that can irreparably damage a vehicle's finish. This high-tech material also prevents your paint from fading in the heat of the sun's UV rays year-round. Paint protection film gives your vehicle ultimate protection from the elements and helps maintain that signature factory finish.
Paint Protection Film also protects your vehicle from the dings, chips, and scratches you're likely to encounter from common outdoor hazards. From road gravel to bird droppings, this incredible protective film serves as an invisible shield between your vehicle and whatever the road (or birds) might throw at it.
Every paint protection film installation is custom-designed and cut using state-of-the-art technology to perfectly fit your vehicle. Plus, you can have peace of mind knowing it's installed by one of our highly-trained technicians and comes with an extended warranty for years to come.
If you're looking for the ultimate level of vehicle protection, consider adding our revolutionary nano ceramic coating as a protective layer on top of the paint protection film. This technologically advanced liquid polymer extends the life of your film even further and protects from stains or corrosion, offering a considerable advantage during the harsh winter and summer months.
Don't let weather or environmental debris ruin your vehicle's beautiful finish. Protect it instead with scratch and chip-resistant paint protection film from Tint World® automotive styling centers. Call 1.800.767.8468 to find the nearest location and schedule your appointment today!