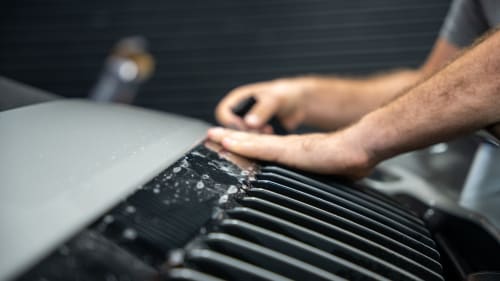 Drivers can do a lot of harm to their vehicles without even realizing it.
Most people are aware of the damage that dirt, debris, and UV rays can inflict on the exterior of our cars, trucks, and SUVs. But we don't notice the small scratches and dents that build up over time in high-use areas around door handles, trunk entry, and door edges.
Even with remote locks, the gear we carry back and forth to work, school, or the gym can leave tiny scrapes and marks as we load it and out of the trunk or backseat. Jewelry, coffee mugs, and metal accessories accumulate at the door cups.
Add to that the inevitable minor mishaps we all encounter in parking lots and garages, and you end up with an unsightly area that's impossible to ignore and a pain to repair or restore.
It's easier to prevent that damage in the first place with Tint World®'s advanced paint protection films. Designed to offer the toughest automotive paint protection available, they can help reduce stress and maintain your vehicle's showroom shine – as well as its resale value.
Tint World®'s industry-leading selection of virtually invisible protective films also provide a valuable layer of high-tech protection between you and the germs and bacteria that build up on your vehicle's surface. Combined with hydrophobic resistance to repel water and dirt, and self-healing properties that ensure the finish's resilience, Tint World® offers a range of options for every driver.
Benefits of Tint World® paint protection film include:
Extreme scratch and chip resistance
Glossy or matte options
Stain resistance to repel salt, insects, and road debris
Hydro resistance to repel water and dirt
Self-healing scratches and swirl marks
Easy maintenance
Increased vehicle resale value
Perfect fit with computer-cut patterns
Professional installation
To find out more about our paint protection film – as well as our windshield protection systems and unique, durable Nano Ceramic Coating solutions – visit the nearest Tint World® location.