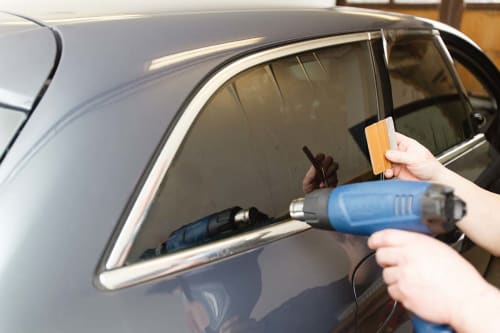 Sunbathing doesn't just happen by the pool or beach – believe it or not, you can get just as much sun exposure in your vehicle on a long drive! However, unlike being at the pool or the beach, exposure is typically stronger, as people rarely think to apply sunscreen after buckling their seatbelts.
Wouldn't it be convenient to get "automatic sunscreen" when you're in your vehicle? Well at Tint World®, it's possible! The right kind of window tint can dramatically cut down on the effects of the sun's heat and UV Rays, while improving the level of privacy and comfort in your vehicle. Plus, Tint World® has multiple options and packages to fit your budget and needs.
Our experts will help you find the right shade of window tint to suit your needs. For the Ultimate protection from the sun, ask about 2-PLY IR Nano Ceramic™ Film from Tint World® Offering 5% light reflection, 60% solar energy rejection, 80% infrared heat rejection, and 99% UV ray rejection, this film also cuts down on glare, helping to reduce eye fatigue and make driving safer.
To ensure the perfect fit for your vehicle, the Tint World® Computer Cut System digitally generates and cuts tint patterns to fit your vehicle's exact window specifications. In addition to providing an exact fit, this system also helps to eliminate the need for sharp objects coming in contact with your vehicle's interior.
If you want the best window tint quality and service, leave it to the pros! We've been doing it since 1982. Make an appointment at your local Tint World® today!