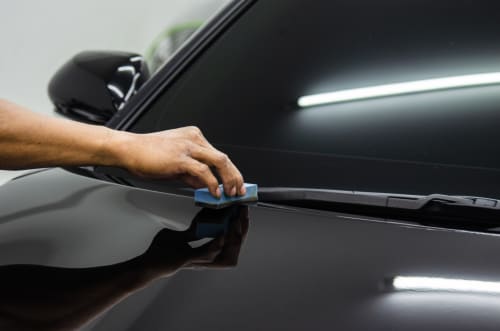 Contrary to popular belief, celebrities sport more than just stretch limos and Lamborghinis when they're ready to hit the road! From Hollywood stars to Super Bowl heroes, celebrities are choosing vehicles that run the gamut from quirky to classy.
"Star Wars" actor Billy Dee Williams' daily driver is a 2017 Mercedes-AMG C43, but he still dotes on his 1984 Jeep Grand Wagoneer. However, even stars still need aftermarket solutions – as William's Jeep was updated with a custom GPS system to help get around town.
Meanwhile, "Pawn Stars" star Rick Harrison drives a 2018 Ford F-150 Raptor on a daily basis, which is perfect for when he's living off-grid in the wilds of Oregon part of the year. But the favorite car he owns is a hot rod, a 1940 Chevrolet Special Deluxe that was the Hot Wheels car of his childhood dreams!
It's not all Movie and TV stars though! Super Bowl champion Ronde Barber, formerly of the Tampa Bay Buccaneers, loves Corvettes. So much so that he owns four, ranging from 1966 to 2014!
While these celebrity favorites may be all over the place, one thing they all have in common is the hard work and secret products they put into keeping their vehicles looking good no matter the age. At Tint World®, we know how to keep vehicles looking good – and we're happy to share our secrets, too! For example, one of our best-kept secrets is our Nano Ceramic Coating.
Offering an ultra-glossy shine, a Tint World® Nano Ceramic Coating is a shield between your vehicle and everyday corrosion and contaminants. It'll offer years of advanced ceramic protection against extreme heat, UV damage, oxidation, and acid rain. Plus – here's a bonus: You'll never have to wax again! The coating can also be used with our paint protection film or vehicle wraps and graphics to enhance longevity and offer even greater protection.
Tint World® Nano Ceramic Coating is specially formulated to provide 9H hardness protection against scratching and chipping. It's only applied by their professionally trained and certified applicators, but their signature application process includes to wash, clay, and buff the vehicle to make sure its 100% blemish free for the perfect bond when the coating is applied.
Head to your nearest Tint World® to choose the perfect Nano Ceramic Coating Package to protect your vehicle's paint, wheels, plastic, glass, and interior for years to come.