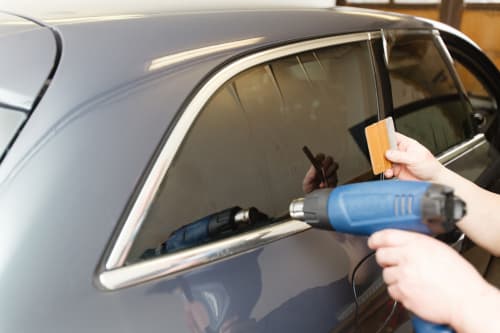 Vehicle owners tint their windows for multiple reasons. Some want to protect themselves from harmful UV rays while others are seeking to give their vehicle a fresh new appearance. Whatever the reason, Tint World®, the leading auto styling franchise, provides four different window tint packages, to meet your needs and budget. Check out our packages below to see which one works best for you!
Economy Package
Our Economy package comes with our 1-ply, charcoal-colored film. With 34% solar rejection, it comes with a one-year limited warranty, and is offered in three shade options: 70%, 50% and 40%.
Premium Package
Our Premium package comes with our 2-ply metal hybrid film that is available in charcoal, bronze and blue. Similar to the Economy package, the window tint is available in 70%, 50% and 40% shade. The Premium film has 45% solar rejection, 8% light reflection and 99% UV ray rejection. The scratch-resistant, micro-edge finish makes the tint easy to maintain over time. This package comes with a lifetime warranty.
Supreme Package
Our Supreme package comes with our 2-ply carbon film. With shades varying all the way down to 18%, this film rejects 55% of the sun's solar heat. Available in neutral black, it also reflects 5% light and rejects 99% of UV rays. Our carbon film has twice the scratch resistance as our Premium package film, along with no electronic interface. This package comes with a lifetime warranty.
Ultimate Package
Our Ultimate Package offers the complete Tint World® window film experience! Our premium 2-ply IR Nano Ceramic Film is six times more scratch-resistant than the carbon film offered in the Supreme package. A testament to its durability, the film also provides shatter-resistant protection. Rejecting 99% of UV rays and 80% of infrared rays, our Nano Ceramic Film is approved by the Skin Cancer Foundation. Available in neutral black and offering up to 5% shade and 60% solar rejection, the ultimate Tint World package is worth the cost because it also comes with a lifetime warranty.
If you are ready to have the windows tinted on your vehicle, head to your nearest Tint World® location.