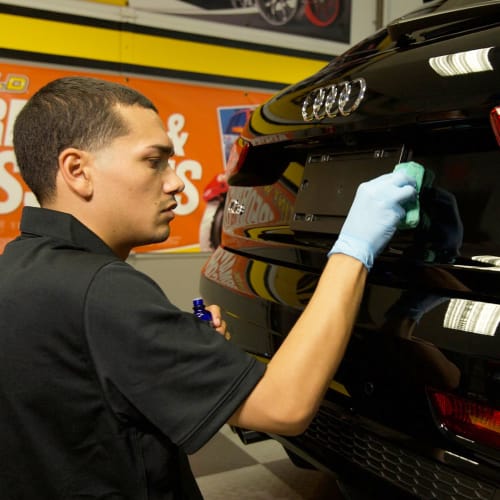 Tint World®'s  Nano Ceramic Coatings offer the ultimate protection for your vehicle. Durable, scratch- and water-resistant, and super-glossy, our advanced long-term protective technology provides a permanent barrier between your car, truck, or SUV and the environment, saving you the cost and headaches associated with long-term wear and tear.
That may sound too good to be true. But there's more!
With our comprehensive, industry-leading selection of options, there's a Tint World® automotive ceramic coating package for every budget and lifestyle.
Tint World® Nano Ceramic Coating systems deliver a full range of benefits, including extreme scratch and chip resistance; advanced protective super hydrophobic application; ultra-glossy appearance with deep color mirror effect; self-cleaning properties for extended durability; dirt-repelling properties that reduce maintenance; years of protection from corrosion and contaminants; protection from UV damage, oxidation, and acid rain; and heat resistance up to 1,400 degrees.
Here are some of the main benefits you'll be able to count on:
9H ceramic protection: Tint World® Nano Ceramic Coating is specially formulated for extreme resistance to scratches, chips, UV rays, extreme heat, and corrosion. The advanced crystal-clear liquid application permanently bonds with your vehicle's exterior surface for lifetime protection.
Super hydrophobic application: The latest and most advanced super-hydrophobic technology beads and sheds water for long-term protective care for your vehicle. Our ceramic coating provides a permanent shine and protection that helps prevent dirt, brake dust, and tar from sticking to your vehicles' paint, wheels, trim, and glass, which makes washing your vehicle easier, and keeps it cleaner longer. And once it's applied, you'll never have to wax again!
Ultra-glossy appearance: Increase the gloss and shine of your vehicle with a deep mirror effect that provides maximum shine and preserves your vehicle's pristine showroom finish.
Self-cleaning properties: Tint World® Nano Ceramic Coating's self-cleaning formulation captures and then repels dust or other debris, providing resistance to extreme weather, contaminants, oxidation, snow, road salt, ice, and more.
Years of protection: Since our ceramic coatings are a one-time application, your vehicle's finish will shine for many years to come. And our two-year, five-year, or lifetime warranty options help ensure you get long-term protection guaranteed, helping you maintain your vehicle's resale value.
Visit the nearest Tint World® location to find out more!