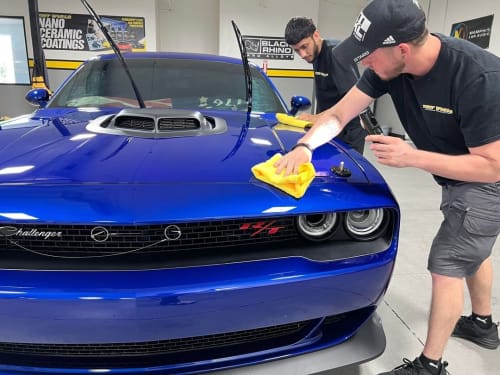 We all know that vehicles quickly lose their showroom finish when we expose them to real-world driving conditions. But have you ever wondered why showroom vehicles look the way that they do?
It's in the details. Showroom vehicles receive full-body paint correction treatment to remove micro scratches and tiny imperfections, enhancing their mirrored finish. Professional detailing, waxing, and polishing are usually performed as a last step to complete the signature look.
That process may be sufficient for the rigors of the showroom floor; however, it can't stand up to the unavoidable accumulation of dirt, dust, debris, and mineral deposits left behind from the rain and sprinkler systems. Since most drivers don't have the time or equipment for showroom-standard maintenance, Tint World's advanced Nano Ceramic Coatings are the best option to protect your vehicle's finish, providing a tougher, more transparent shine than competing products. In fact, our coating scores a 9H on the Mohs hardness scale. These coatings can hold up for years, delivering a shine that eliminates the need for waxing.
Below are some of the many benefits of Tint World ceramic coatings:
Industry-leading protection from light scratches, mineral deposits, and other environmental elements
Advanced protective care
Ultra-glossy mirror finish
Self-cleaning properties
Less maintenance
Years of protection
And that's not all, Nano Ceramic Coating doesn't just protect exterior painted surfaces on cars, trucks, and SUVs.
It can also be applied to exterior glass, plastic, metals, chrome, vinyl graphics, fiberglass, carbon fiber, along with fabric and leather surfaces to protect the interior of your vehicle, as well. Our ceramic coatings are specially formulated for both on-road and off-road vehicles, and you can even use them in your kitchen, helping to protect appliances and other high contact surfaces.
Tint World's Nano Ceramic Coatings also come with a two-year, five-year, or lifetime warranty and maintenance plan to ensure your vehicle is protected.
Visit a Tint World location near you for more information or a quote.