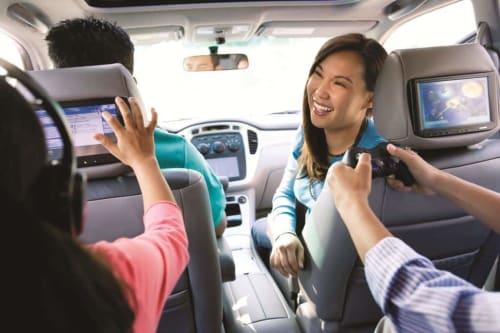 Only a couple more weeks left until you and your family hit the road to your ultimate summer destination (or at least to the first one this season). With miles and miles on the road ahead of you, make sure to make the experience of getting there just as fun as actually being there. With products and services from Tint World®, time in your vehicle doesn't just have to be nap time—it can be the buffer for all the fun you'll be having at your actual destination.

First off, preparation is key. You might think that getting your car detailed is something you would do after traveling across the country, but consider getting an interior detail before. Doing so basically gives you, your family, and your vehicle a fresh start. As it is standard to put all loose items found in the interior of your vehicle in the trunk during a detail, not only will you find the extra space in the interior useful, but you'll also have the chance to sort through all the items in your trunk. Keep in mind that, the heavier the load on your vehicle, the harder it has to work which leads to less efficient gas mileage—so clear out miscellaneous items and make use of the clean space wisely. As you'll be spending hours and hours in your car, an interior detail can provide the comfortable space you can start relaxing in.

Getting your car's windows tinted is also another great way to prepare your vehicle for a road trip. We've all been in a situation when we're stuck on the side of the vehicle that has the sun beating down on it. Rather than sit through an extended, sun baking session, window tint can help passengers keep cool while also protecting them from harmful UV rays.

Now that your family is cool and comfortable, it could be beneficial to add some entertainment during such a long drive. Tint World® offers a full line of car audio and car video system products from top brands like Sony, JVC, Kenwood, and more. Whether you're looking for a basic upgrade to your factory system, or a full blown entertainment spectacle, Tint World® can do it all. Keep your kids in a good mood by putting on their favorite flick or sing-along to your favorite tunes by connecting your smartphone via Bluetooth (also available at Tint World®). With the latest audio and video items available at their fingertips, your family may not ever want to leave the car.

Get to where you need to go from wherever you are. Our expert Tint World® installers can easily integrate the latest mobile electronics into your vehicle, including the ever useful GPS Navigation system. If you're on a time crunch, get to your destination the fastest way with easy-to-follow directions. And if you have some time to spare, go ahead and get lost and find yourself later—the adventures you can have while out on the road can be just as exciting as anything you'll do at your actual destination.