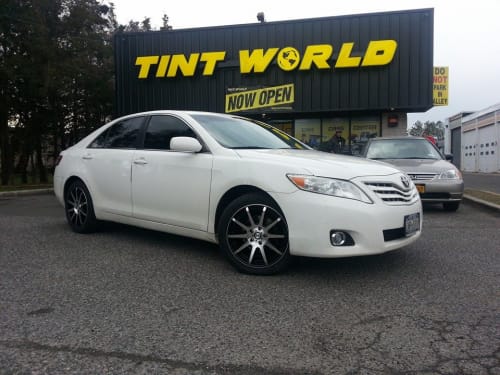 How old is your car? If it's like the new American average, chances are it's nearly 12 years old – the new record high for vehicles on the road today. Because nearly one out of four vehicles in the U.S. was built before 2000, you may be asking yourself, how do I keep my car going while adding a little excitement to my drive-time commute?
At Tint World®, we love our classics just as much as the latest models and pride ourselves on keeping older cars relevant with choice upgrades. So, if you're thinking of trading in your ride to get something fresh, check out these changes that'll make you think twice.
Modern, mobile electronics: The vast majority of new cars today come available with safety and convenience features such as back-up cameras, GPS navigation, home-link systems, and remote starts that could easily make you want to trade in your old ride. However, aftermarket solutions can be installed with a factory-fresh look and feel that will make you fall in love with your car once again.
Reconditioning: When you walk out to your car, do all the little scrapes, paint chips, and dings and dents from a long life make you embarrassed? Auto reconditioning can help and at a fraction of the cost of going to a traditional body shop. Because specialized tools like heat guns, buffers, and dent pullers are really needed to make a difference, it's best to trust reconditioning to trained technicians who have both the equipment and the know-how to bring your car back to showroom condition.
Car audio upgrades: In the 1990s and early 2000s, it was more common to find low-output factory stereos than today, meaning you're likely dealing with car audio equipment that's scratchy, fuzzy, and in need of an upgrade. The aftermarket 12 volt industry has grown so much that now, almost any vehicle can be fitted with stereos ready to win sound competitions. If you're wanting a little boost in sound quality, consider a new set of speakers and a head unit to increase the output and clarity. If you want to go another step further, consider vehicle-specific subwoofer enclosures that are designed to look like they came straight from the factory.
Making choice investments towards updating your older ride can give you the motivation to keep it going for another 10 years. This is a great way to save money and enjoy your commute or weekend travels, but it's important to note that not every upgrade is easy to achieve. Fortunately, our technicians can help upgrade your ride so it comes back in tip-top condition. To find out more, contact your local Tint World® today.