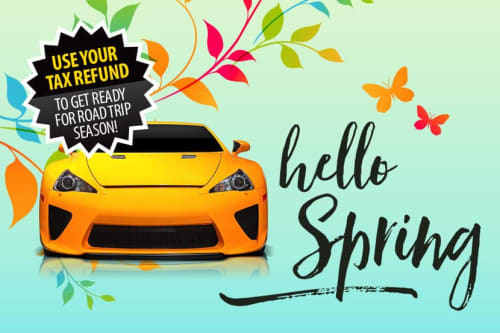 Get Ready to Hit the Road and the Water with These Savings
Have you got a case of spring fever? At Tint World®, we know the time is right to get your car, your boat and your home ready for the fun and festivities warm weather brings. And with tax season almost done, you could use your refund to make the upgrades you've always wanted. These offers expire April 30, 2019, so contact your local Tint World® today!
OUT WITH THE OLD: Take 50 percent off old tint removal with the purchase of our Supreme or Ultimate Tint Package! The additional glass will be extra.
IN WITH THE NEW: Take 10 percent off custom leather interiors with OEM Quality Fitment, custom colors, and patterns.
STYLIN' ON THE WATER: Take 15 percent off marine styling services like tinting, Nano Ceramic Coating, and electronics.
SOUNDS OF THE SEASON: Car audio system upgrades are up to 30 percent off on select models.
READY FOR SUMMER: Take 15 percent off home window tinting and save money on summer's A/C costs! We offer free estimates.
WAY TO PAY: We offer instant credit in-store financing through snap! Finance and Synchrony Car Care. This month, take 10 percent off when financing $500 or more!
As the season warms up, there's no time like the present to upgrade your car, boat or home. Check out these and more offers online. See offer for details. These offers only good in our U.S. locations.