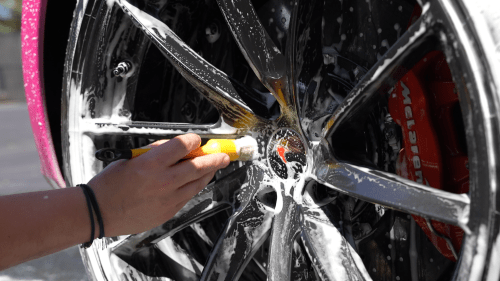 Winter can wreak havoc on your vehicle. And we're not even talking about the damage that snow, ice, salt, and freezing temperatures can do.
During the colder months, tasks to help keep your car, truck or SUV looking and feeling crisp can feel challenging. Why get a car wash if it's going to snow again soon? Why clean floormats that will be covered in slush again tomorrow?
Remember that while snow, ice, and shorter days can help to hide some of the messes, spring thaw follows shortly afterwards to reveal them all.
Not to worry though, Tint World® is here to help! Our professional auto detailing services help keep your vehicle clean and protected all winter long so you're ready to hit the road smiling in summer.
With our wide range of service packages, Tint World® offers hassle-free protection for your car's interior and exterior. Plus, every package includes our professional-grade products and detailing service applications, like Liquid Glass, Leather Shield, and Fabric Shield. Whether you want to restore that showroom shine or need to treat swirls, oxidation, or spots and stains, our trained professional detailers have the perfect solution. We can even get your dull headlights shining like new again with our headlight restoration services!
Plus, if you want to add an extra layer of protection, we also offer paint protection films and nano ceramic coatings!
Still not convinced? Here are some other reasons why frequent detailing is critical:
Regular cleaning helps reduce the accumulation of germs and allergens.
Keeping your vehicle in like-new condition helps maintain its resale value.
Regular attention reduces the effects of everyday wear and tear.
If you're leasing, you can help avoid any unnecessary fees from longstanding debris.
Don't let your vehicle's winter condition ruin your spring! Visit your nearest Tint World® location to learn more about our auto detailing services or to schedule an appointment.