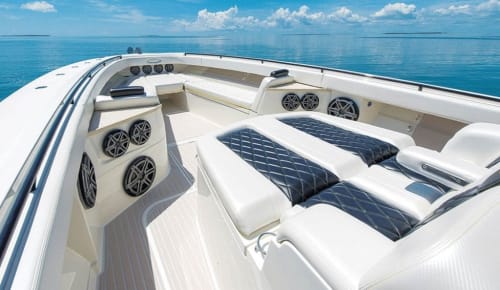 When you're out on the water this year, you should be living your best life – and there aren't any shortcuts for that. So, make the most out of your boating experience by investing in the marine audio and video system you deserve!
Tint World® offers a full lineup of the most popular marine audio brands, with industry-leading products designed to bring music and other entertainment to life in full, rich detail. Whether your top priority is sound quality, convenience, cost, or safety, our skilled marine audio and video professionals are ready to help you build a custom system for your needs.
In addition to hi-fi components and custom systems, Tint World®'s marine audio services also include the latest video, satellite radio, Bluetooth, and other smart connection technology. Importantly, we also specialize in essential features that keep you safe and protect your investment: GPS navigation and tracking devices, night vision mirrors, dash/rear cameras, alarm systems, and more.
At Tint World®, with our premier products and expert services we can help bring anyone's marine audio dreams to life. Whether you need to upgrade, install a custom system to blow away the competition or  enhance your family's safety with the latest protective technology, Tint World®'s highly skilled audio installation technicians are ready!
Since 1982, Tint World® Automotive Styling Services™ has kept customer service at the forefront of their priority list. Whether it's by land or by sea – we have the aftermarket solutions to make it stand out and provide you with the experiences you're looking for.
If you're ready to get the most out of your marine investment, visit your local Tint World® for more information on our full range of marine services, including lighting, color change wraps and graphics, professional detailing, and nano ceramic protective coatings.