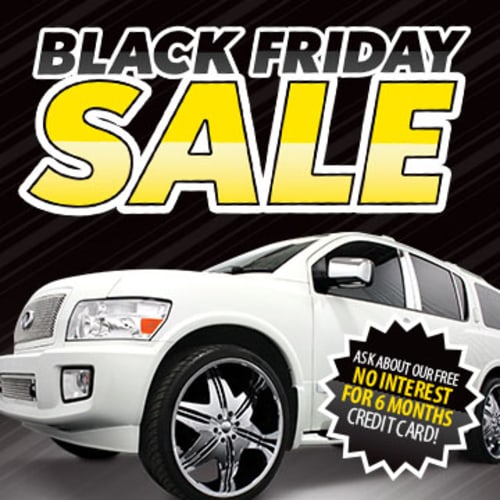 Black Friday is just around the corner, but if you want to upgrade your ride, why wait until the end of the week? At Tint World®, we've started early with pre-holiday savings on a variety of products and services. So if you're ready to treat yourself and your vehicle, make sure to beat the crowds and take advantage of our Black Friday Sales event.
Free Hushmat Speaker Kit! Getting new speakers is a great investment for car audio upgrades, but if you experience rattling, feedback, or a fuzzy sound, your stereo upgrades won't seem worth it. During Tint World®'s Black Friday Sales event, you can eliminate feedback and get rattle-free sound from your Focal or Illusion speakers with a free Hushmat Speaker kit. Just have our experienced car audio experts install your system, and we'll upgrade you insulation for free.
Remote Start Combo! It's getting cold outside, which means longer warmup times to get your heater working. By having a remote start installed, you can fire up your ride, finish your morning routine, and get in to warmth and comfort. During our Black Friday Sales event, you can get a Compustar CS700-S one way remote start combo package installed in any vehicle for $179.95.
Free Express Wash with Tint Package! Getting your car, truck, van or SUV tinted isn't just a summertime upgrade – it can benefit your ride all year long. Improve your vehicle's heating efficiency and fuel economy by having any one of our tint packages, including the Ultimate Tint Package featuring our trademarked 2-Ply Nano-Carbon XP™ window film, installed and get a free express wash at the same time!
Free Radar Detector Hardware install! You're surly going to be driving a lot during the holiday shopping season, so make sure you don't get caught speeding with an industry-leading K40 radar detector. During Tint World®'s Black Friday Sales event, purchase a K40 RD950 or K40 RLS2 radar detector and our expert mobile electronics experts will professionally install it absolutely free.
Get $10 Off! Shopping for the car lover in your life? If you sign up for a Tint World® credit card during our Black Friday Sales event, you'll get $10 off your first purchase! Make sure to talk to your local Tint World® Automotive Styling Centers™ owner too about exclusive Tint World® gift cards.
Even if Black Friday comes only once a year, there's no reason to miss out on exclusive deals on quality upgrades for your ride. Make sure to stop by your local Tint World® Automotive Styling Center™, or visit our online store, to take advantage of these incredible deals.