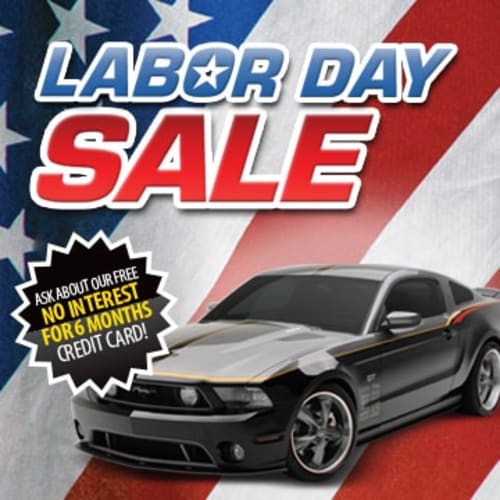 School's back in session and everyone – from the most hardcore enthusiast to a parent on a budget – is seeking great deals that only come around once a year. In celebration, Tint World® is holding its annual Labor Day sales event now until September 7, with deals on exclusive services, exciting upgrades and much more. If you're looking to spice up your ride and not break the bank, check out what your local Tint World® has to offer:
Free window strip! Even as temperatures begin to fall, there's always an advantage to having your vehicle's windows tinted, and now, there's even more reason to visit your local Tint World® installer. When you purchase any window tint package, including the Ultimate with Tint World®'s 2-Ply Nano-Carbon XP™ film, you will receive a free protective windshield strip – a $50 value.
BOGO detailing! Did you know that our experienced installers and technicians are also professional automotive detailers? During the Tint World® Labor Day sales event, you can experience their expertise more than once, because when you buy one economy detail package you'll receive another one at absolutely no charge to you.
Free Hushmat speaker kit! Automotive stereos are highly susceptible to vibrations and noises that can ruin sound quality, something Hushmat takes very seriously. Their innovative speaker kits create an anti-vibration gasket between the speaker and housing to ensure sound stays crystal clear, and is available free with any purchase of aftermarket speakers priced at $99 or more.
Marine & motorsports audio deals! As the beginning of fall approaches, your recreational machine use may be slowing down, but fun can still be had on and off the water. During Tint World®'s Labor Day sales event, you can get exclusive deals on audio upgrades for your ATV or boat, all backed by our technicians' expert installations.
Upgrade your ride with style and performance! There's no better time to upgrade your car, truck or SUV than now and Tint World® wants to help you build, bolt and save. From now until September 7th, you can save 15 percent on select wheels and accessories from leading aftermarket companies including Foose, DUB and many more.
Get to work, get off the pavement, or break barriers! A truck can be a lot of things to a lot of people, and at Tint World®, we understand that yours may very well be your pride and joy. Treat your workhorse, mud slinger or cruiser to some exclusive deals on high-quality truck parts and accessories at unbeatable prices during our Labor Day sales event.
These great deals on car, truck, SUV, boat and motorsport accessories and services won't be around forever, so make sure to download our exclusive coupons today. Then, stop by your local Tint World® Automotive Styling Center™, or visit our online store, to take advantage of our Labor Day sales event.