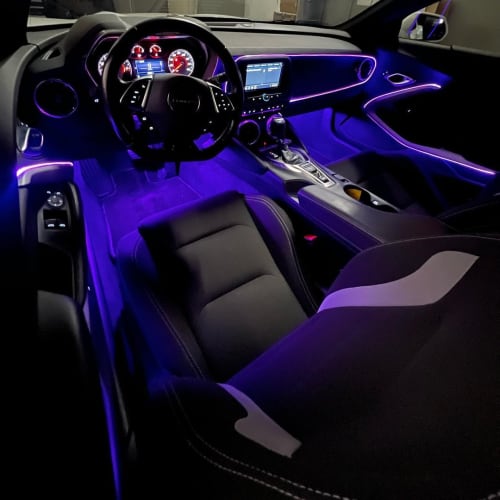 The dark depths of winter are here, so it's the perfect time to upgrade the lighting on your car, truck, or SUV. Tint World® can prepare your vehicle for 2023 with innovative lighting solutions that will add style and ensure safety throughout the new year.
Whether you're looking for powerful performance that will protect you and your family or you want powerful lighting options that match your shining personality, Tint World® automotive lighting service has everything you need. And our premium selection of exterior and interior lighting products and expert installation service ensure that your top-quality Tint World® lighting delivers outstanding lasting performance.
We specialize in a variety of exterior and interior lighting service. We offer exterior car lighting for your vehicle's underbody, grille and wheels in hundreds of color combinations that can bounce to music or freeze your favorite color and be controlled remotely from your smartphone. Interior car lights come in a wide range of ambient color combinations so you can express your style and mood and even bounce or freeze your lights, all while controlling them remotely. Our HID headlight kits provide automotive lighting that is three times brighter and lasts 10 times longer than standard halogen car lights. Available in a variety of colors and brightness, they're an essential upgrade for night driving.
In addition, we offer the following automotive lighting products and services:
Interior LED lighting
Halo lighting
Logo ghost lighting
Fog lights
Off-road lighting
Exterior LED strips
LED lighting scanners
Sidemarker lights
Headlight and taillight assembly
Parking lights
Bumper lights
Third brake lights
Bulb replacement
Don't let the darkness detract from your driving experience this winter! Tint World® automotive lighting upgrades enhance the safety and performance of your vehicle while adding a splash of style.
To find out more or to schedule an appointment, visit the nearest Tint World® location!