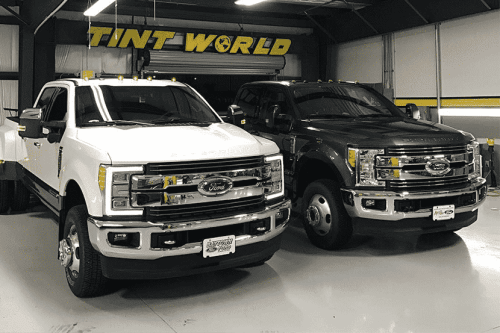 Five ways to accessorize your truck and make it your own
Americans love their trucks. You either have one, keep one as a spare, or know someone who drives one (you know, the friend who helps you move or haul cargo all the time). The versatile vehicles now represent some 70 percent of all vehicle sales in the U.S.
You can drop a good chunk of change on a new fully outfitted truck at a dealership, or you can save some money buying a stripped-down version. Regardless, if more power, accessories or bling is your thing, Tint World® is the destination for truck lovers.
Here are five ways you can customize your truck to make it stand out from all the others:
Lights: We can kit out your truck with off-road lights, fog lights or light systems and displays that can set the mood for a night of off-roading.
Tonneau covers: Add some character and protect your bed with our Tonneau covers, available in a variety of colors and shades.
Exterior upgrades: We can add running boards, customized grills, roof racks and bug deflectors to your ride. We can also add chrome, or delete it.
Performance upgrades: Consider a custom exhaust system for more torque and power to get you over those humps — literally. Add an air intake system to make sure you don't stall out when crossing a deep creek. Add a suspension or lift kit to get you down the rocky roads.
Train horns: Customize your horn and get noticed in the neighborhood or in the backcountry.
Whether you are a city slicker or a deer hunter, Tint World can help customize your truck to your heart's desire. Stand out from the rest of the pack. Contact Tint World® today for the best aftermarket truck parts, upgrades and accessories available today.