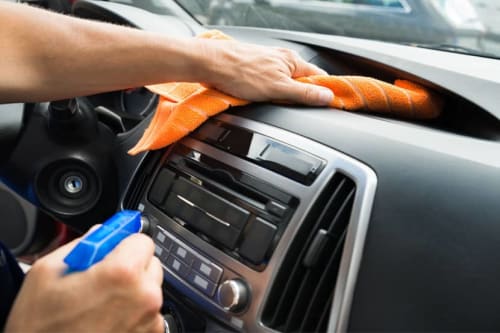 Keep your interior spotless with our interior detailing services
When you think about detailing your vehicle, you might conjure up an image of some college kid removing ground-in gunk from your dashboard and console with a toothpick.
At Tint World®, detailing is a lot more detailed. Our technicians have the most updated tools and training to make your vehicle interior look like new, including:
Very specialized products to eliminate odors of mildew, tobacco, food scraps and drink spills, and even pet waste.
Specially formulated cleaners and state-of-the-art techniques to remove mildew and mold from your seats, mats, doors, console and carpets.
Quality products and special training to remove hard water deposits from your vehicle's exterior.
Liquid Glass Vehicle Sealant to prolong that showroom look. Liquid Glass, which combines nano-tech and space-age polymers, protects your car's post-detail exterior from ultraviolet light, tree sap, and pollution. It bonds to your paint and comes with a one-year warranty.
Fabric Shield interior sealant protects your vehicle's carpeting, fabric, and mats. Fabric Shield forms a protective, waterproof shield that doesn't change the texture of the interior materials. It forms a protective coating around fibers that cause liquids and other contaminants to bead up, rather than sink in, your carpets and other fabrics. It doesn't require reapplication and will retain its protective properties, unlike traditional water-soluble fabric guards.
Leather Shield preserves your car's leather and vinyl upholstery, and prevents fading, cracking and premature aging of your vehicle's interior. With just one application, it also prevents staining from those inevitable, unintentional applications of coffee and soda. Leather Shield will also help retain the supple texture of your leather seats, prolonging the life and extending the resale value of your vehicle.
Our expert technicians can keep your interior looking showroom-new – without a single toothpick.
Contact your nearest Tint World® location today for more information about our detailing services.