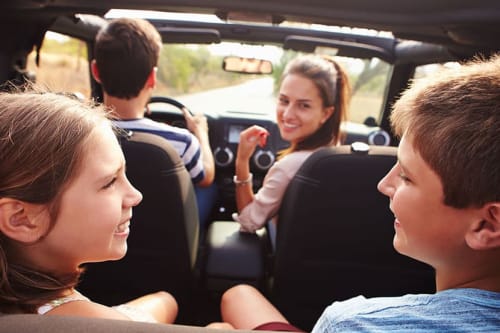 Take your vacation in a safer vehicle this summer
Your family's safety is our No. 1 priority. Tint World® stocks the latest safety technology to protect them.
Carloads of happy families will be headed out on spring breaks and summer vacations soon. Here are five ways we can make the trip much safer.
Rear-view cameras. We have a range of aftermarket models for slightly older cars that lack rear-view cameras. These cameras are crucial to preventing death and injury from collisions, and they also make backing up in tight spaces easier.
Hands-free calling. Hands-free calling systems are not only required in some states, but they are also a common-sense and convenient safety feature. You can easily route outgoing and incoming calls through our hands-free features, which offer the added bonus of streaming your smartphone's music collection.
Lighting. We have a range of modern LED headlights that can illuminate the roadway in front of you with increasing clarity.
Night-vision cameras. This breakthrough technology scours the road in front of you and displays obstacles and threats on a heads-up display.
Remote starts. We offer remote starts from brands such as Viper, Compustar and Avital. The remote start and alarm feature can make sure you can enter your car quickly and safely and make a quick getaway if needed.
Window tint. Our signature car-window tinting reduces glare in both summer and winter and enhances vision. Tinting also reduces the penetration of UV rays that are known to cause cancer.
Plan now to enhance security and protection for your family on those upcoming road trips. We want you to build good vacation memories for years to come. Contact Tint World® today for a safety upgrade.