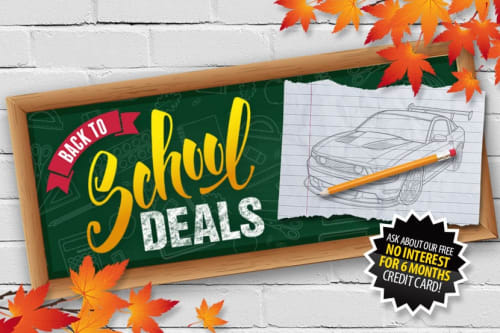 Windshield strips, audio systems and bedliners are featured promotions
Back to school? It seems like summer's just getting started!
Well, it's never too early to start preparing for the inevitable. Tint World® can take some of the stings out of the summer wind-down with this array of spectacular back-to-school deals. This is a great time to ensure your favorite college or high school student has a safe and well-equipped vehicle upon their return to classes. Hurry down to your closest Tint World! These deals run through Aug. 15 and are only available at Tint World locations in the U.S.
Windshield strip: Get a free windshield strip with the purchase of any automotive window tint package. It's a $30 value!
Bedliners and blades: Beat the late summer rain with 15 percent off our Scrubblades. We are also offering 15 percent off our Husky bedliners to protect your truck bed and its cargo!
EXOSHIELD: We now offer the best technology available for protecting your windshield. The shield provides protection from weather and road debris. This technology is an even better value at 10 percent off!
Audio package: Get a full Sony audio package for $799. The package includes a receiver, subwoofer and two-way component speakers. (Installation is not included_).
Home window tinting: Save money on air conditioning costs for the remainder of the summer with 15 percent off a home window-tinting package.
Remote starts: Get 10 percent off a Viper SmartStart system that includes a remote start, locking and unlocking and ways to locate and track your vehicle.