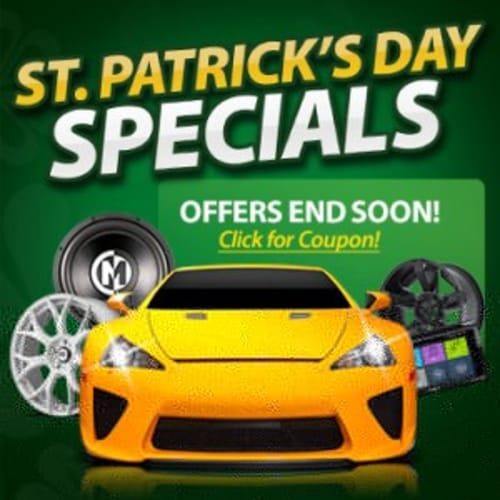 It's Your Lucky Month! Tint World® has just released its annual St. Patrick's Day Sale.
Come by your local Tint World® and take advantage of these special discounts: Wheels and Tire Packages, Paint Protection, Window Tinting and more. You don't have to follow the rainbow to find this pot of gold on the other end. Go to your local Tint World® location and take advantage of these amazing deals.
Free Express Detail with any purchase over $200! Tint World's® express detailing packages includes: Hand washing and drying of wheels, body, windows both inside and, complete vacuuming of all interior carpets and mats, full detail of the dash, door jambs, vents and trim, and a premium wax finish. Your car will look so fresh and clean you will feel like you are riding a new car.
Motegi Wheels and Tire Packages now 10% off. Motegi wheels are show stopping, high quality wheels offered this month only at Tint World® for an incredible 10% discount. Select from varying spoke settings, the full line of Motegi Series Models and Styles, 4 or 5 lugs, and varying wheel width of 6.5-8.5 inches. Motegi offers several colors from shiny chrome, to black, to mixed black and chrome, black and red, white and black. All Motegi wheels are pure performance designs built for supercars. Come in to Tint World® this month and find out which Motegi wheel model is best for you.
$30 Dollars off All Window Tinting Packages. Window tinting at Tint World® is computer cut to fit for ultimate accuracy and perfection. Tint World® uses micro-edge film technology that makes the installation process quick and flawless every time. Tint World® has over 30 years of industry experience and recognition specifically in tinting and offers a nationwide warranty on all tinting packages. Choose from a variety of shades to suit your personal style and save with our competitive prices and top of the line products and services.
$349 Loaded Enclosure Package. Add some bass to your sound system with a loaded pair of 12's in an embroidered ported enclosure. This high quality bass speaker box is available for a limited at Tint World.
$100 off Tint World Paint Protection Film. Tint World® Paint Protection Film also known as Clear Bra, the latest in car paint protection. Cover and protect your vehicles hood, fenders, mirrors, and bumpers. Our free installation takes approximately 3-5 hours, and comes with a 5 year warranty. Stop by your local Tint World® for quick installation today.
Wheel Bands starting at $149.99, installation included at no additional charge. With the combined benefit of both style and function, wheel bands add a custom pinstripe of color to your wheels, while also protecting your rims from costly scratches and damage caused by curbs and roadside dividers. Come in to your nearest Tint World® to learn more about functional and stylish Wheel Bands today!