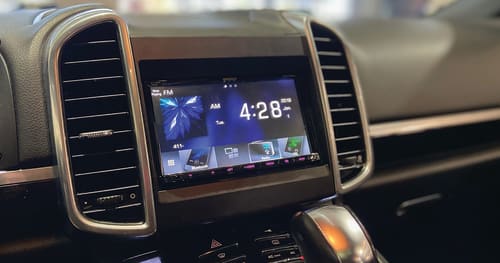 After dealing with a challenging 2020, it's time to make the New Year a better one. One great way to add a little something extra to your life is by upgrading your vehicle's audio system.  At Tint World®, we're here to make sure our customers get the perfect car audio setup for their needs, whether it's a simple aftermarket stereo or a powerful competition-grade system.
Tint World® has a full array of car audio — from mild to wild. Our stores stock the most popular automotive electronics products including stereo head units with Apple CarPlay and Android Auto, speakers, subwoofers, amplifiers, video monitors, DVD players, entertainment systems, and much more!
But even the best car audio system won't help if there is nothing worth listening to on radio or you suffer from bad reception. Tint World® can add features like HD Radio, XM Satellite Radio or Sirius Satellite Radio for your listening pleasure, too. We also offer car audio and stereo components to improve sound quality and to integrate Bluetooth and iPod control.
Need to add some oomph to your stereo's sound? Tint World® has a wide selection of speakers and subwoofers to meet your needs. We'll pump up the bass and treble on any car audio system.  Need a full component speaker system or something simpler to upgrade your factory system? Tint World® will make your drive sound awesome.
Our team of audio experts is ready to build your dream audio system. If you have more questions about how we can upgrade your car audio, we're here to help. Contact your local Tint World® today to speak with a pro.