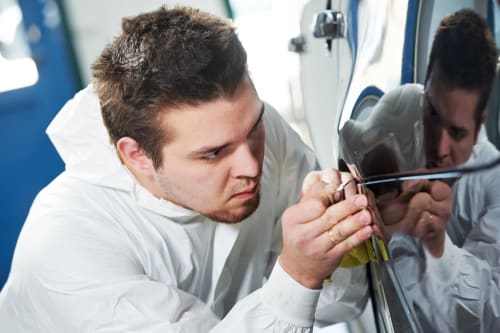 As we move into the summer months and new model year vehicles are hitting the market, many individuals are considering trading in their cars and trucks for something new. If you are readying your vehicle for a trip to a dealership to find out what your car or truck is worth, take a look at your vehicle with a critical eye. How does your vehicle really look and what can you expect to get in a trade? If you are concerned about your car's worth, consider the advantages of TintWorld® auto reconditioning services.
With more than 15 services that cover all interior and exterior surfaces of vehicles, TintWorld® auto reconditioning services can help bring your vehicle back to near showroom condition. As reported by Edmunds.com, understanding what the True Market Value is for your vehicle in relation to the condition can help you prepare for what you may be offered by a dealership. 
The most common areas that can benefit from TintWorld® auto reconditioning services include:
Paintless Dent Repair: Our technicians can easily remove the minor dents and unsightly dings that can make your vehicle look older than it actually is. Dents and dings are removed without having to break factory finish, helping to keep your vehicle without unsightly paint lines that could decrease your value.
Scratch Removal: Unsightly scratches can damage the value of your car beyond simple dents and dings, meaning less value at trade-in time. TintWorld® offers the latest technology buffing pads and scratch removal products to produce outstanding auto reconditioning results.
Paint Touch-Up and Chip Repair: Paint chips, nicks and small rust spots can damage the luster of your vehicle and with TintWorld®'s Paint Touch-Up service, you can inexpensively correct these issues with the paint on your vehicle.
Before you look to trade in your vehicle or if you want to make sure that your vehicle looks great for years of continued enjoyment, TintWorld® auto reconditioning services can help you maximize the value of your vehicle.  To find out more about our automotive reconditioning services, contact your local Tint World® today.