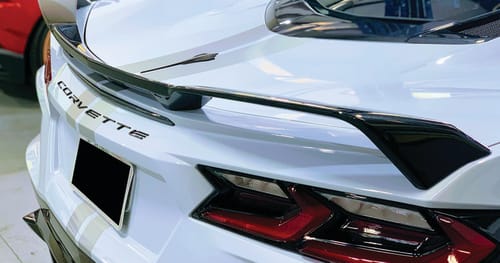 Paint protection film is a great way to shield your vehicle from damage and keep it looking amazing. The high-tech urethane film takes damage instead of your car's finish, and it even self-heals to make scratches and scrapes invisible. But did you know that there are many options when it comes to paint protection film, just like the options you can find with window tint? Depending on the level of protection you're looking for, you can find paint protection film packages to fit any budget. Here are the packages we offer at Tint World®.
Standard Package
This package protects the areas of your vehicle that are the most vulnerable to damage. We put the Clear Bra paint protection film on part of the front hood, part of the front fenders and front sides of the rear-view mirrors.
Premium Package
A step up from standard, the premium package adds protection to your vehicle's upper and lower front bumper.
Supreme Package
Adding even more protection for your vehicle, the supreme package covers the full front hood and front fenders, the front sides of the rear-view mirrors, the upper and lower front bumper, and the front headlights and sport lights.
Ultimate Package
If you're ready to get serious about protecting your ride, the ultimate package is for you. This package offers:
Full vehicle coverage.
Full hood and trunk coverage.
Full front fenders.
Full rear-view mirrors.
Full front and back bumpers.
Front headlights and sport lights.
Front A-pillars.
All doors.
Rear quarter panels.
Full roof.
Full rear hood.
We also have add-ons available like door edge guards, door handle cups, door sills, full door panels, full quarter panels, full trunk panels, full rear bumper, full windshield and colored light lenses that you can add to any package. Vehicle protection is not one-size-fits-all, and we get that at Tint World®. For more information about paint protection film for your vehicle, just contact your local Tint World® today!