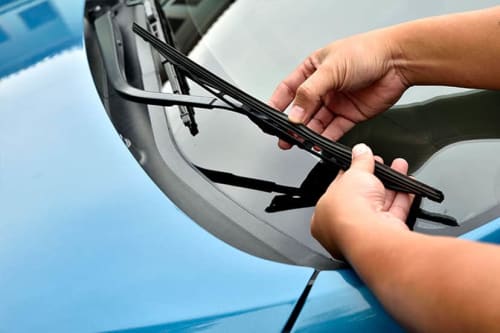 We Can Get Your Car or Truck Rain-Ready Today
April showers bring May flowers, but they can also bring dangerous driving conditions and potential damage to your car or truck. So, while you're pulling on your galoshes, don't forget to take steps that will make rainy weather safe for you and your vehicle this spring. It's important to practice safe driving in rainy weather. Don't follow too close, drive too fast or ever try to drive through standing water. But before you drive, make sure your car or truck is rain-ready. Here are a few products and services from Tint World® that can protect you and your car when the weather turns wet.
Check your wipers: You should change your windshield wiper blades at least once a year to make sure they can keep up with the rain. Tint World® offers the gold standard in wiper blade technology: SCRUBBLADE. These high-end wiper blades have a nano graphite coating for smear-free removal of rain, bugs and road debris.
Consider new tires: If tread on your tires gets too low, you might find yourself sliding on rain-slick streets. Make sure your tires have enough tread to handle the rain, and if not, you should replace them. Tint World® carries a wide variety of tires and wheels to fit any vehicle or use.
Protect your paint: Rain, especially acid rain, can take its toll on your car's finish. But Tint World® Nano Ceramic Coatings can shield your car or truck from rain's harmful effects, including rust.
Shine the light: To stay safe when driving in the rain, make sure your car's headlights and taillights are in good working order, ensuring you can see and other drivers can see you. We can replace that broken headlight or upgrade your lighting for maximum visibility.
But it's best to make these changes before monsoon season hits. To make sure you're ready to drive in the rain, contact your local Tint World® today!