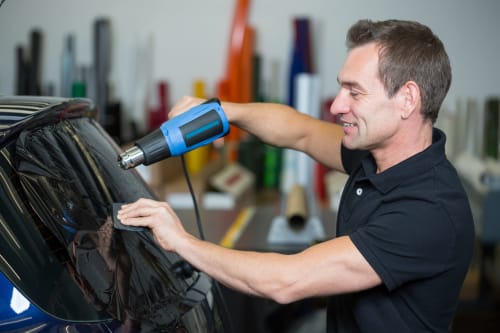 Have you ever had a set of clothes tailored to your exact measurements? If so, then you know that there's nothing quite like a perfect, customized fit.
Those bespoke clothes may feel and look great, but when it comes to window tint or paint protection film for your car, a perfect fit isn't a luxury — it's a necessity. When you're choosing an installation expert, make sure they have what it takes to get precision cuts every time.
At SEMA 2019, we learned that Eastman Performance Films is unveiling a new, mobile-enabled, computerized film-cutting system that will revolutionize our industry, making perfect cuts easier and faster than ever. Here's why it matters:
Computer Cut Film Protects Your Car
Applying window tint or paint protection film is a delicate, painstaking process that requires a lot of skill and patience. When applying tint or film without a pre-cut system, the installer takes a full sheet, stretches it over the surface, then cuts it with a razor to fit.
If you cringed a little reading that, you're not alone. Getting a razor near your paint, glass or rubber fittings is a risky proposition at best, a disaster at worst. A computer-cut system has the measurements for your car's exact make and model installed, rolling out sheets that don't need additional cutting or adjustments to fit perfectly.
Computer Cuts are Faster
The purpose of technology is to make our lives faster and easier, right? Computerized automotive film cutting succeeds in this area. By automating the measuring and cutting process, it not only takes the guesswork out of film application, it gets the job done faster. That means you'll be back behind the wheel and on the road in a flash.
At Tint World®, we're always finding ways to make the latest, cutting-edge technology benefit our customers. From windshield nanotechnology to lightning-fast, precision-cut window tint, we have futuristic tech available for your vehicle. Contact your local Tint World® today to find out more.