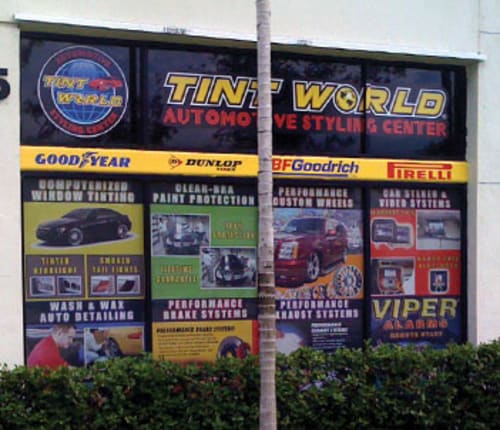 While you may think the core of your retail or service business is what's inside, your storefront says a lot about your brand, your quality and your appeal. Having the best business model, carrying the best retail products, or offering the finest on-site services may not be enough to get people to walk in the door. After all, it takes an average person just eight seconds to walk past a storefront, and even less time to drive by. What image are you portraying in those important seconds?
There are a number of ways you can spruce up your storefront in order to draw attention to the goods and services inside. While items such as balloons, inflatables or tents can make an impact, these may lack the branding alignment of personalized vinyl graphics and window decals. At Tint World®, we work with businesses nationwide to help them find the ideal methods of storefront customization. Below are just a few ways sprucing up your building's looks can have a positive effect on your business:
Maximized Messaging: By adding a visual aspect to your storefront, such as perforated window decals, your message can be showcased in full color graphics without damaging your outward visibility. These add an aesthetic flair to set your business apart from the surrounding storefronts, as well as your competition.
Portability: While window graphics add impactful messaging to your building, custom vinyl graphics can be created to add style to multiple parts of your business. Mimicking retractable banners, these one-off, custom made pieces are great for promoting special events, drawing attention to certain sale items, or even for showcasing your brand at special events or trade shows.
Big Impact: Is your business under construction? Are your outdoor banners being damaged by weather? You can turn these potentially business-robbing situations into boosted traffic by transforming banners or construction fences into brand messaging. Placing tightly woven, vinyl-coated material over construction mesh can create a sturdy, durable and highly-visible branding tool.
To find out more about adding custom vinyl graphics or branded window film to your company, find your local Tint World today.