Office Window Tinting and Design Films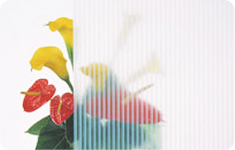 Commercial and office window tinting adds a new dimension to any space. This functional or decorative office window tint is applied to glass to create a
beautiful etched appearance without the associated high cost of sandblasting glass, and without the need to remove the glass while the work is being done.
Office window tint is installed as a maintenance-free, fingerprint-resistant film that creates a uniform appearance that disperses light softly, rendering a
high-class, tranquil atmosphere.
---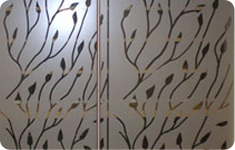 Glass Enhancement
Office window tint and decorative films retrofit existing glass and are suited for interior glass partitions or the inside surface of outdoor facing windows
to create privacy and a unique upscale look.
Create Privacy – Decorative & Blackout Films Films Limit Exterior Visibility and Reduce Glare
Frosted Window Film – Bathrooms, Partitions, Glass Doors, Shower Enclosures
Insulating Window Film – Sun Control Films Reduce Heating & Cooling Expenses
---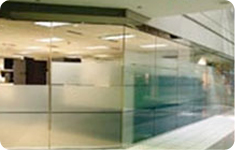 Privacy Control Office Window Tint
Office window tinting is great way to allow light into your office, without feeling like you're on display. Office window tint limits visibility from the
outside while letting natural light flow freely inside.
---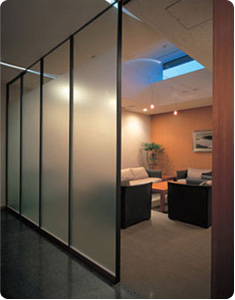 Frosted Glass
A specific type of office window tinting, Frosted Window Films are best if you are looking for privacy, either for bathrooms, or office cubicles that are
exposed to neighbors. Frosted office window tint is translucent, which means light will still enter in the daytime, but from the outside no one will see in.
---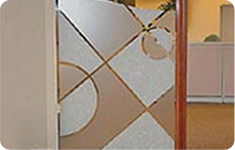 Decorative Office Window Tinting
Decorative office window tinting adds a new dimension to any space. Applied to existing glass, decorative office window tint creates beautiful glass designs
without any permanent alteration or removal of the glass.
Our office window tint is a low –maintenance, fingerprint-resistant film that provides both decorative visuals and functional light dispersal.
Decorative office window tint retrofits existing glass and are the perfect way to give a tasteful, unique look to your office environment, and enhance
privacy for your employees in a creative way.
By using our computerized cutting technology, office window tinting can create custom designs to complement any décor. We can even cut your corporate logo into the film to create the look of high-end sandblasted glass art.
---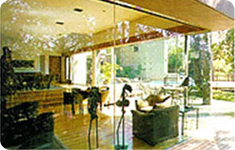 Spectrally Selective Office Window Tint
Technological advances in office window tinting allow you to enjoy glass clarity with all the fading and heat protection offered by darker tint. Office window tinting will not change the look of your building, and will reject up to 80% of the sun's heat and 99% of harmful UV rays.
Maintain high visibility and plenty of sunlight while protecting your merchandise and cooling your store or office. Our spectrally selective window tint is ideal for retail stores because these revolutionary films let in the daylight and reject the sun's heat while blocking out 99.9% of the UV rays that destroy valuable merchandise.
---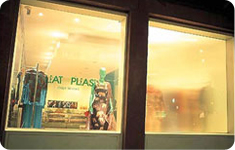 Lumisty
Lumisty view control film gives you the ability to actually dictate what can be seen and what can't. The glass can be transparent from one angle and
translucent from another angle allowing you to control how people see through the glass.
Lumisty is available in three versions, each with different transparent to translucent formats. As a central design element for some of the world's most
contemporary corporate offices, restaurants, night clubs, hotels and even homes, Lumisty empowers architects and designers to leverage the glass and light to affect the
ambiance and mood of their designs.
---
Skylights Treatment
Tint World® also provides office window tinting for skylights. Be it small skylights or giant ceilings and atriums, we can provide tint for all your
commercial skylight needs.
Though aesthetically pleasing, skylights can sometimes make a space uncomfortably bright and hot. Office window tinting can be applied to skylights to curb
glare and heat while maintaining the open, sunny feeling skylights provide.
In addition, office window tint dramatically reduces your heating bills in the winter and lowers the cost of keeping your house cool in the summer with the
year-round ability to reflect up to 70% of heat in the summer and retain up to 60% of the heat in the winter.