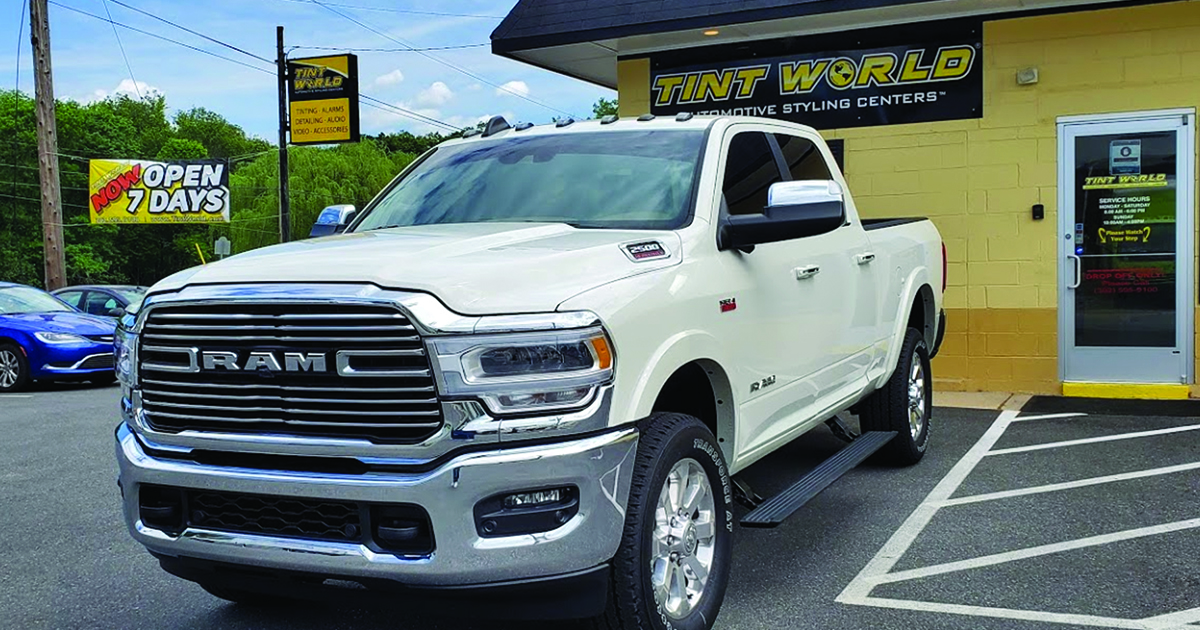 Despite a successful and diverse career, Jason Heller felt like he was at a dead-end. Then he found Tint World® and is now on the path to success working for himself.
As owner of the Tint World® Wilmington, Delaware, location, Heller had initially checked out opportunities with the franchise brand back in 2012, but life and family issues intervened, and those plans fell to the wayside. Fast forward to November 2017, when Heller saw an ad on Facebook that reminded him of his interest.
"I said to my myself, 'Oh, my gosh, I forgot about that place,' and I reached out again. It was time to do something for myself or keep working for someone else for the rest of my life. It was time to make that decision."
Then things began to happen very quickly: Heller contacted Tint World® in November 2017, attended a Discovery Day in February 2018, and had already opened his location by July 2018. "It could have been tough decision because I was in a very secure, well-paying position, but at the same time I was bored out of my mind," he said. "So, I decided I couldn't work for other people anymore — not even for another minute-and-a-half — and that's why we moved so fast."
Full Speed Ahead
As he has settled into the groove of being a Tint World® location owner, Heller has learned to trust his team, delegating day-to-day operations to one of his all-stars while he works on the big picture.
"Greg Parker, my general manager, runs the day-to-day operations. My primary focus is on finances, strategy, networking, and raising brand awareness in the community. I personally handle our commercial and fleet accounts as well as our commercial and residential division. I essentially handle everything off-site, and Greg manages everything in the shop."
Like every other business in the U.S., though, Heller's store found its strength tested in early 2020 as the COVID-19 pandemic tightened its grip. "Our biggest challenge, of course, has been the pandemic," he said. "We had two months of almost no revenue. I actually got a part-time job during that time so I could keep my full-time employees on payroll. I didn't take any pay so it could go to them. I don't want to ever mess with anybody's livelihood and wanted to make sure that we could easily make payroll every week. Nobody should ever have to worry about their paychecks not clearing."
But there was light at the end of the tunnel, and, in recent months, the situation has turned around dramatically. "In May, we got busier than we've ever been and that still continues today," Heller said. "All through the summer, we were booked out for over a month. We hired more people and still couldn't keep up with the demand. Every month since then has been a record-breaking month — it's been insane in a good way."
A Lifelong Interest
So, what drew Heller to Tint World®? He said it's the culmination of a lifelong interest. "Looking back, I've always been a car guy," he said. "What I enjoy about them is the aesthetics and the customization. Since I got my driver's license, I've always customized and personalized my vehicles, so this type of business seemed to be a really natural fit. In that sense, I am excited and passionate about serving our customers every day, because I have their mindset about all the things that they want to do to their vehicles. Those are the same things that I've always wanted to do and to buy."
Lessons Learned
Although the past two years have come with learning opportunities, Heller continues to succeed. Running his location allows Heller to stay involved in brand-wide initiatives, contributing to the success of the Tint World® as a whole. He said running the business has been educational, and offers a few well-earned pieces of advice to new and upcoming location owners:
"Trust the system. (CEO) Charles Bonfiglio and (COO) Jeff Stark have no reason to steer anybody wrong because their success is 100% dependent upon each store's success. Trust the system they built because it's clearly worked over and over and over again."
"Over budget for the amount of working capital that you will need as a cushion when starting out. We never got to a point where finances were an issue, but had we budgeted for just a bit more, we would have had more peace of mind during our initial start-up period."
"Don't hesitate when making decisions that your gut tells you are right. Don't hesitate or over-analyze, just go with your gut."
If you've found Jason Heller's story of interest and would like to learn more about Tint World® franchise opportunities, download our franchise kit today!