Advice from Austin Gurba, Lenexa, Kansas store owner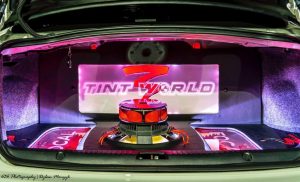 A sales background and lifelong interest in cars and audio systems led Austin Gurba to open a Tint World® franchise in Lenexa, Kansas outside Kansas City. The store opened in November 2013.
As part of an occasional blog series highlighting Tint World franchisees, Gurba shared his thoughts on challenges he's faced, his desire to bring his children on board when they are a little older, and the importance of a cool demo car.
Question: What attracted you to the Tint World brand and franchise?
Answer: I wanted to get into the car industry, especially accessories. I've always had a passion for car audio and cars in general. My father-in-law brought up the idea of franchising, so we did some research into some different franchises and visited Tint World and another one, but Tint World stuck out the most by far.
What stuck out the most about Tint World?
The stores, the way they look, the marketing. You could just tell they were involved in the brand, for sure.
What are some of the most popular items people in Lenexa want from Tint World?
It's seasonal. In winter, we do a lot of remote starts. In summer, we're doing tons of tint jobs, ceramic coating, paint protection and car audio.
What's the coolest car job you've done?
Had a Lamborghini in, lots of classic cars. We just had a G-wagon (Mercedes-Benz G Class) in a few weeks ago.
Any particular challenges associated with antique cars?
Easier than modern cars, but owners are more particular if they restored the vehicle. We've mostly built (audio) trunks, stuff for car shows.
What's the oldest car you've worked on?
Probably something from the 60s. We did a 69 Chevelle not too long ago. We get a ton of older muscle cars in.
What has been your biggest challenge as a Tint World franchisee?
In the very beginning, definitely employees. I've had a great staff now for two years. There was also kind of a learning curve, switching industries, learning a lot of things I didn't know.
So you have a good team in place now. Why did it take a while to build?
It's a craft, and you have to know what you're doing. A lot of people say they know what they're doing, but that might not be true. I've learned to hire what I was actually looking for, versus just hiring.
You are on the Tint World Franchise Advisory Council. What are some of the issues you hear from some of your fellow Tint World owners?
Just getting on the same page with specials and marketing because all stores are different. Stores in Florida are going to be different than stores in Minnesota or Kansas. They are Just different regions. I think that's why the council was put together, to have more voices in the pot.
What are some specific examples of something that will fly in one area, not in another.
Remote starts is the No. 1 thing that comes to mind. Obviously, Fort Lauderdale is not doing as many remote starts in December as we do in Kansas City. They may do a couple per month. We're doing six to eight a day during winter. Obviously, our tinting goes way down in winter. Theirs does not. It can be 100 degrees (in Lenexa), or it can be 0 here.
Any advice for other Tint World franchisees or for someone opening a Tint World today?
Ask good questions. I don't think I asked enough questions at the beginning. I tried to do too much on my own. Obviously, follow the lead of what they want us to do. They have the product set up, learn the products. I'm constantly trying to learn about the products I carry and make sure I'm knowledgeable when talking to customers about our product.
Tell us about your family.
I have a wife and two small children. They come to the shop sometimes. Other store owners involve their kids when they are older. I want to do that.
What kind of car do you drive?
A Charger Hellcat. The shop added audio, paint protection and ceramic coatings to demo it. I also have an '04 Sierra with a full demo sound system and vehicle wrap.
Is that a perk of operating a Tint World? You get to trick out your own car?
Well, maybe you don't get to work on it as much as before because you're doing other people's cars but it's nice to have demo car sitting out in front. It definitely draws a lot of attention. That's the No.1 thing I think is important for a new store. Have a demo vehicle out front where you can show off products in the real world and not just on a board.