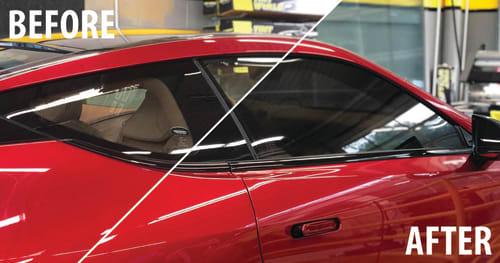 For some, the joy of customizing your vehicle just can't be beat. Upgrading every system, surface and finish and making it truly yours is a reward in itself. If you're looking for a way to start putting your mark on your car or truck, window tint is a great option that provides fast, noticeable, head-turning results.  Tint World® can customize your car with the darkest legal window tint available. But for a true customization aficionado, regular grey or dark tint isn't enough. That's why we offer a wide variety of custom options at Tint World®. Here are a few of the custom tint shades we offer. 
Custom Graphics 
You can truly express yourself with custom graphics embedded in your window tint. We have graphics like flames, animal prints and pinstripes, but we can use your custom design, too. Several layers of custom tints will make up your design. We can even use chromed tint to make your design really stand out. 
Custom Colors 
Grey and black aren't the only options when it comes to window tint. We can make tint in a variety of colors, including blue, green, red and yellow. We can even mix tint to get just the right shade for you. 
Mirror and Limo Tint
Looking for the ultimate in privacy and luxury? We can provide reflective/mirror tint and limo tint — the darkest shade of window tint available. Give your car the red-carpet treatment with these amazing shades. 
Keeping it Legal
When selecting window tint, it's important to keep local laws in mind. Every state has different regulations regarding window tint, including what shades are allowable on what areas of the car. Our experts at Tint World® are up to date on the latest tint laws and regulations. We can get your ride looking great and rolling legally.  At Tint World®, window tint is our specialty. We use a computer-based system to get the most accurate cuts and exactly the right fit, every time. If you would like to learn more, just contact your local Tint World® today!