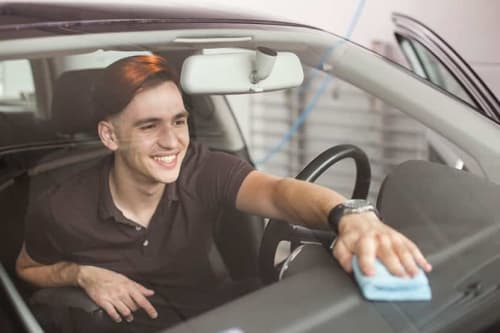 Polish up your car with our reconditioning services
Admit it: You don't always show your baby the love she deserves. There are dings in the door and pockmarks in the windshield. October is National Car Care month, though, and Tint World® can help patch up your relationship with your car.
Here are five ways to give your car the TLC it deserves:
Reconditioning. Our auto reconditioning team can remove dents and dings without breaking the factory finish on your car. Our team of experts can get your car looking like new again.
Windshield repair. Our windshield repair team can get that pocked windshield back to its original visibility and luster. It's best to tend to those windshield pockmarks quickly because they will spread without repair.
Fabric repair. Maybe your dog got a little excited about that trip to the park, or maybe a friend dropped their cigarette. Whatever the cause, we can restore your car's fabric and make it look like new again. This helps maintain your car's resale value and drastically improves its appearance.
Headlight restoration. Your headlights take a beating from both road debris and sunlight. That can lead to cloudy and dim headlights that don't meet your needs at night. We can restore headlight clarity and provide a UV coating to better protect them in the future.
Ceramic protection. Our Nano Ceramic Coating gives your car a glossy appearance, protects the paint from wear and tear and UV rays, and offers years of protection against corrosion. Our Nano Ceramic Coatings have a hardness rating of 9H, and it will limit the need to wash and wax your car on a regular basis.
You've been neglecting your baby in the driveway. October is a great time to make things right, so contact your local Tint World® today.