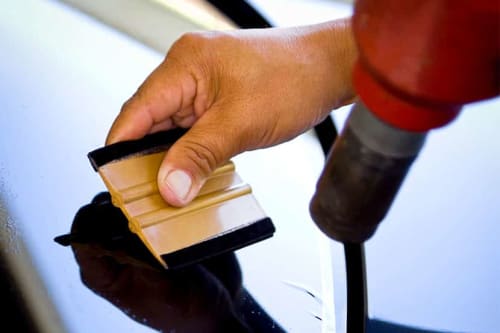 Alchemy ExoShield Keeps Your Windshield (And You) Safe
A damaged or shattered windshield has always been a safety hazard and an expense, but today's windshields aren't just glass anymore. They often house technology that empowers a car's automatic features like assisted braking, proximity alerts, heads-up navigation and more.
That is why it's more important than ever to protect your windshield from damage. When you have to replace a windshield with these integrated features, they require sophisticated recalibration by specialized technicians, and that means additional cost.
At Tint World®, we want our customers to have cutting-edge, high-performance products that protect them and extend the life of their vehicles. That's why we offer the Alchemy ExoShield system of windshield protection. The ExoShield is a state-of-the-art, razor-thin film of nanotechnology that represents the best windshield protection on the market. Here are some of the benefits:
Impact resistance: The ExoShield's nanomaterials increase your windshield's impact resistance by an incredible six times. This both protects your investment in your car and the invaluable lives riding inside.
UV protection: ExoShield blocks 99.9 percent of the sun's harmful UV rays, reducing your risk of skin cancer and protecting your car's interior from cracking and fading.
Keep premiums low: Insurance claims cause your premiums to go up. That includes when you have to replace your windshield. Protecting your windshield keeps your car insurance premiums low.
Peace of mind: With ExoShield, you won't wince at every roadway pebble that dings your windshield. This level of protection will ease your mind about road hazards from weather and debris.
Tint World® offers a variety of auto glass films, ceramic coatings and car wraps that can protect you and your vehicle from roadway hazards. For more information about the Alchemy ExoShield or any other protective products we offer, contact your local Tint World® today!