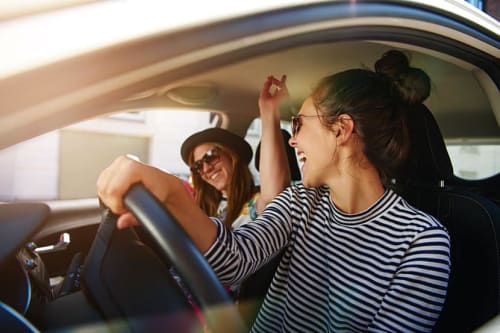 From bass consoles to amplifiers, we'll have you rocking down the road
Cooler. Check.
Surfboard. Check.
Change of clothes. Check.
Two dogs that could use a bath. Check.
Tunes. Um.
If you call your car Thumper this blog might not be for you, but others find themselves in serious need of an audio upgrade. Shimmy and shake and Smurf over to Tint World® for all your summer car audio component needs. Or maybe your signature dance is a modern interpretation of the funky chicken. Regardless, what's a road trip without tunes? And wait. That's not an 8-track, is it?
If you've got a fever for more cowbell from your car stereo, here's how Tint World® can help with the sound, man:
Big brands: Our stores stock the most popular audio systems in the world today – stereo heads, CD players, Bluetooth for streaming, and speakers, subwoofers and amps. We have partnerships with Sony, Kenwood, Focal and virtually any other tuneful company you can imagine.
Components galore: Our in-dash car stereo components offer built-in amplifiers, audio controls and connections for streaming devices such as iPads and smartphones.
Radio waves: If keeping up with the news, sports or newest Luke Bryan or Lil Wayne tracks is your jam, we provide XM and Sirius satellite radio. Some models also include home component accessory kits so you can listen to satellite radio at home, not just on the road.
External amps: You know that guy with the car called Thumper? He has an external amp that is far superior to an internal stereo amp.
Equalizers: Make sure the music is mixed right with an equalizer. This controls the sound going from your receiver to your amplifier.
Bass packages: Get your boom-boom on with a car stereo bass package.
These items should meet all your needs for that summer road trip. Tint World® also offers navigation and video options to round out your digital ride. And then you can finally ditch that 8-track. Where'd you get that thing, anyway?
Contact us today to get the best sound around.