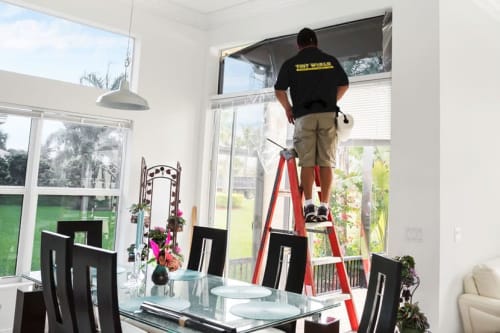 Tint World® films provide sun protection and privacy, too!
If spring cleaning is on your agenda, don't forget the windows! While you're at it, consider the energy savings, safety, and privacy that some of our decorative window films can offer. At Tint World®, we can even add the look of glass etching or sandblasting – without the added costs or disruptions to your home.
Our installation experts will make the process a breeze, tailoring the application to your home and needs. Here are some types of tint that can improve the way your home looks and feels.
Frosted privacy film is perfect for bathrooms, sunrooms, glass doors, glass walls or showers, letting light through while protecting you from prying eyes. You can choose designs like stripes or blocks to add your unique flair.
Spectrally selective window tint keeps solar and UV rays out of your house but lets you keep your view. This tint protects you from the sun's heat and keeps your furniture and home décor from fading without changing the look of your home inside or out.
Insulating home window tint will save you money in heating and cooling costs during any season.
Solar window tint improves home security by letting you see out while others can't see in.
Got skylights? We can cover those, too. You won't lose the natural light, but Tint World®'s skylight treatment will protect you from glare, UV rays and excessive heat.
If you would like to explore ways to enhance the glass in your home or business, Tint World® has a team of experts willing to help you. Whether you're going for a luxury look or just want to block harmful rays, we have the right application for you. Contact your local Tint World® today to find out more!