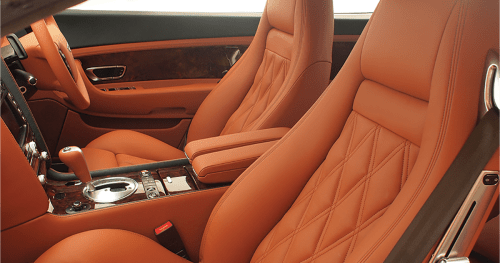 Whether it's a quick run to the grocery store, or a cross-country road trip, the interior of your vehicle plays a defining role when it comes to creature comforts. If you're looking to enhance your interior, Tint World® has just the thing.
For a luxurious experience, Tint World® offers custom leather interiors with a variety of options that will help you create a style that suits your personality. With top-of-the-line, Grade-A, Italian leather interiors, provided by Alea Leather, you can enjoy something that is custom-made for your specific vehicle and style.
Want to upgrade your cloth interior? Tint World® has hundreds of options available! If you need help designing your new interior, Tint World® experts can assist in creating your ideal look by guiding you through a series of patterns, fabric or leather finishes, stitch styles, and many other options. Featuring complete interior replacements that are OEM factory approved and fit the original manufacturer specifications, there is a pattern and style to suit your needs.
Don't forget – to go along with your vehicle's new interior, Tint World® offers heating and cooling systems that are designed with a built-in turbo thermostat adjustment for each seat. Now that's cozy!
Do you have damage to your vehicle's interior? The experts at Tint World® can also repair damaged interiors! Their custom repair techniques use innovative technology to restore and recondition crease lines, wear-and-tear damage, fading, and sun-aged discoloration.
For an added layer of protection, consider applying our interior textile ceramic coating — one of our many Nano Ceramic Coating product options that help to repel liquids and prevent stains.
Come check out all of the custom interior options available at your nearest Tint World® and let our experts help you!