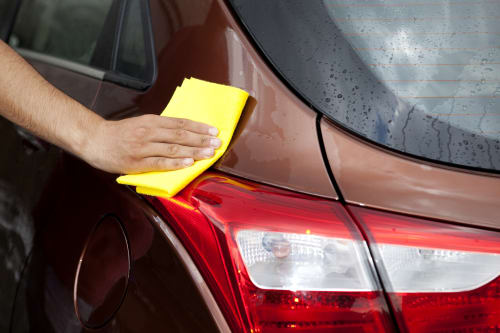 Spring is in full swing and summer is on the horizon. Beautiful weather creates the perfect opportunity for weekend getaways. But more your vehicle is on the road, the more wear and tear it will have too.
This is why it is important to get your vehicle in top shape before hitting the road. The experts at Tint World®, the leading automotive styling franchise, are here to help. Here are three quick items vehicle owners can do to help get ready for the season.
Tint Your Windows
Glare from the sun can create blinding situations while traveling. Consider Tint World®'s window tint services to help fight those hazardous conditions. A leader in window tinting since 1982, Tint World® professionals use a state-of-the-art system to create a product that increases safety while also improving the look and comfort of your vehicle.
In addition to enhancing your vehicle's style and appearance, automotive window tint reduces more than 99% of harmful ultraviolet rays. This helps protect you and your passengers from skin and eye damage. Worried about faded and cracked interiors? Window tint also helps protect your vehicle from sun damage, while keeping your car noticeably cooler, too!
Apply Nano Ceramic Coating
Long road trips can be hard on your vehicle's exterior. With gravel, road debris, and environmental elements impacting your vehicle, Tint World®'s crystal-clear Nano Ceramic Coating offers protection by creating a barrier against scratches and chips, ultraviolet rays, corrosion, and high heat.
The Nano Ceramic Coating also provides an ultra-glossy, deep color mirror finish that keeps your vehicle in showroom condition. The coating's self-cleaning properties provide extended durability while repelling dirt and water as well.
Install Paint Protection Film
Another option for preparing your vehicle for summer road trips is Tint World®'s paint protection film. Paint protection films can be applied on almost an entire vehicle, including headlamps and even windshields.
Our clear and satin paint protection films are virtually invisible, and are designed to protect your vehicle from rock chips, scuffs, and other environmental debris. In addition, the film will also help to protect your vehicle from harmful ultraviolet rays.
Tint World®'s windshield protection film is a transparent, razor-thin, state-of-the-art film that is applied to the windshield's exterior to increase impact resistance by six times and block out 99.9% of ultraviolet radiation. Tint World® also offers special tinted protection films for headlights, fog lights, and taillights – in a variety of colors, including clear, smoke, blue, green, red, and yellow.
For maximum protection, consider applying our Nano Ceramic Coating as an added layer on top of our Paint Protection Film, for the ultimate peace of mind on the road!
If you are ready to give your vehicle a quick upgrade for your summer travels, stop by your nearest Tint World® location today!