Tint World® celebrates the accomplishments of 2018
As 2018 ends, the Tint World® family takes the opportunity to look back at a year of success that sets the stage for exciting times ahead.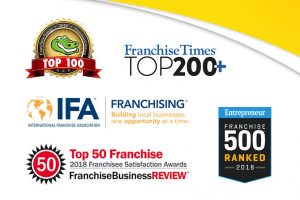 A year of growth
In all, Tint World® opened 11 new locations during 2018, working hard to meet a goal announced by CEO Charles J. Bonfiglio back in June.
"We've set a goal of having 300 stores by 2025," Bonfiglio said at the time. "This summer alone we're looking at nine new store openings, eight of which are stateside with the last being in Dubai. We're looking to make headway overseas in the coming months with more international franchise opportunities. We're also looking to expand even further in the U.S. into areas like Colorado, Virginia, Connecticut, and South Carolina, and to boost our presence in states like Pennsylvania, New Jersey, and California."
To reflect the increasing demand, Tint World® updated its franchise opportunity website, which outlines the growing opportunities in the automotive styling industry and what sets apart the brand apart from other franchises across all markets.
A year of accolades
The hard work of our franchise owners helped propel Tint World® to new heights of recognition. In 2018, we received a number of awards and accolades from the franchise industry:
Named to Entrepreneur's Franchise 500®list for the fourth year in a row.
Named to Franchise Gator's Top 100 Franchises of 2018, Fastest Growing Franchises and Top Emerging Franchises lists for the third consecutive year.
Selected by Franchise Business Review as a top opportunity for prospective franchise owners based on existing owner satisfaction.
Named to the Franchise Times Top 200+ list for a sixth time.
In October, the International Franchise Association (IFA) awarded Lubbock, Texas, Tint World owners Acey and Kerri Light its prestigious Franchisee of the Year award. In addition, they also received the Tint World® Best Performing Franchise Award.
A year of commitment to growth
Tint World® started the year the introduction of our new 5 Star Program, which reinforces our commitment to supporting the continuing growth and development of our owners. The 5 Star Program, is a comprehensive pathway for franchise owners to improve their daily operations and increase sales. Measuring multiple aspects of quality such as customer relations, business systems and financial targets, the scores will be taken and reviewed quarterly in efforts to help owners succeed in their business.
A year of new partnerships
Tint World® never stops seeking new and beneficial partnerships to provide our customers with the most innovate products on the market. In 2018, we added several new partners to our vendor network:
Alea Leather, manufacturer of high-quality custom-made leather seats.
Modagrafics, a national fleet and OEM branding solutions company, offering custom vehicle graphics.
Rostra Accessories, a leading manufacturer of cruise controls, backup cameras and parking assistance systems.
Alchemy, manufacturer of ExoShield, a breakthrough windshield-protection application based on cutting-edge nanotechnology.
A year of new products
In 2018, we launched a line of 10 new automotive detailing products to help keep our customers' cars in showroom shape. The new Tint World® detailing product line includes Ceramic Waterless Wash & Detailer, Correction Compound, Decon Spray, Foam Cannon Soap, Luxury Spray Wax, Magic Surface Clay Mitt, Metal X Rust Remover, Textile Protection, Tire Shine Gel, Water Spot Remover.
For our franchise owners, we offer our thanks for contributing to Tint World®'s success in 2018. For those interested in exploring business opportunities with us, download the Tint World® franchise kit for more information on franchising opportunities.