For Morgan Hill Tint World, drift car sponsorship is a family affair
Xan Owens is her son's biggest fan
It was no surprise Andrew Arani would race cars one day. During late night bed checks when he was a 5-year-old, his parents, Tint World® franchise owners Michelle Arani and Xan Owens, would sometimes find him in the family room watching racing on television.
Now Andrew races for the Morgan Hill, California Tint World® brand on the state drift-racing circuit and takes the car to other events to promote the shop.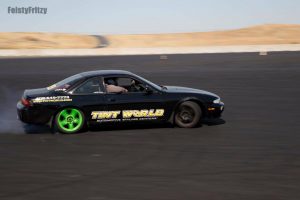 Both of Arani/Owens' children are into racing, but Andrew, a co-owner of the franchise, is the true auto "symbiote," Xan says. He races a Nissan 240 with a modified suspension, customized tires, rims, control arms and so much more.
Andrew got involved with drift racing by way of the Sports Car Club of America, which stages races and Auto Cross of various types across the country, including events at Sonoma Raceway, Thunderhill, Laguna Seca and Buttonwillow. He was a proctor and instructor, and has become an event coordinator for Speed SF, which hosts races in the Bay Area and Northern California. No doubt you will find him racing on the California circuit and attending other events with the Tint World® car.
Xan got involved when Andrew asked whether she would be interested in connecting with other kinds of cars outside the typical Lamborghinis, Ferraris and hot rods serviced at the Morgan Hill shop. She agreed, and the shop now sponsors Andrew's car. That includes some additional modifications, updates, vinyl wraps and graphics. Mechanical work is largely done elsewhere on the 240 using parts ordered through the store. The sponsorship also includes being listed as a Tint World® drift car, vendor swag bags for fans, other free gifts, classes and lessons.
The first big event for the Tint World®-sponsored car was Reno Hot August Nights in 2017, which included a drift exhibition for the first time in the events history. The Tint World® car served as a "drift taxi" for fans who purchased a ticket to ride along in the drift exhibition.
The 2017 drift car's maiden year proved successful. In preparation for this year's Reno Hot August Nights and other events, a separate 240 is being outfitted with a V-8 engine, far more sophisticated and eye-catching graphics, as well as audio upgrades for "more boom," Xan says.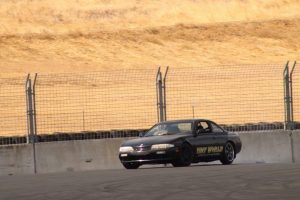 While Andrew is working hard to win his first major event in Northern California races, touring other events with the Tint World® car is expected to pay dividends. Every event averages at least 100 people, and Xan, Andrew, his longtime girlfriend Amanda Sutherland and others, engage fans and those curious about the Tint World® brand.
Xan, her sons and all the technicians from Morgan Hill plan to hit an event in Sonoma in July. It is referenced in a shop mailing list as an opportunity to meet the Tint World® team and talk shop and cars.
"I think we're definitely getting a return on our investment," Xan says.
For more information about Tint World® and the lifestyle that owning a Tint World® franchise can bring, download the Tint World® franchise kit.