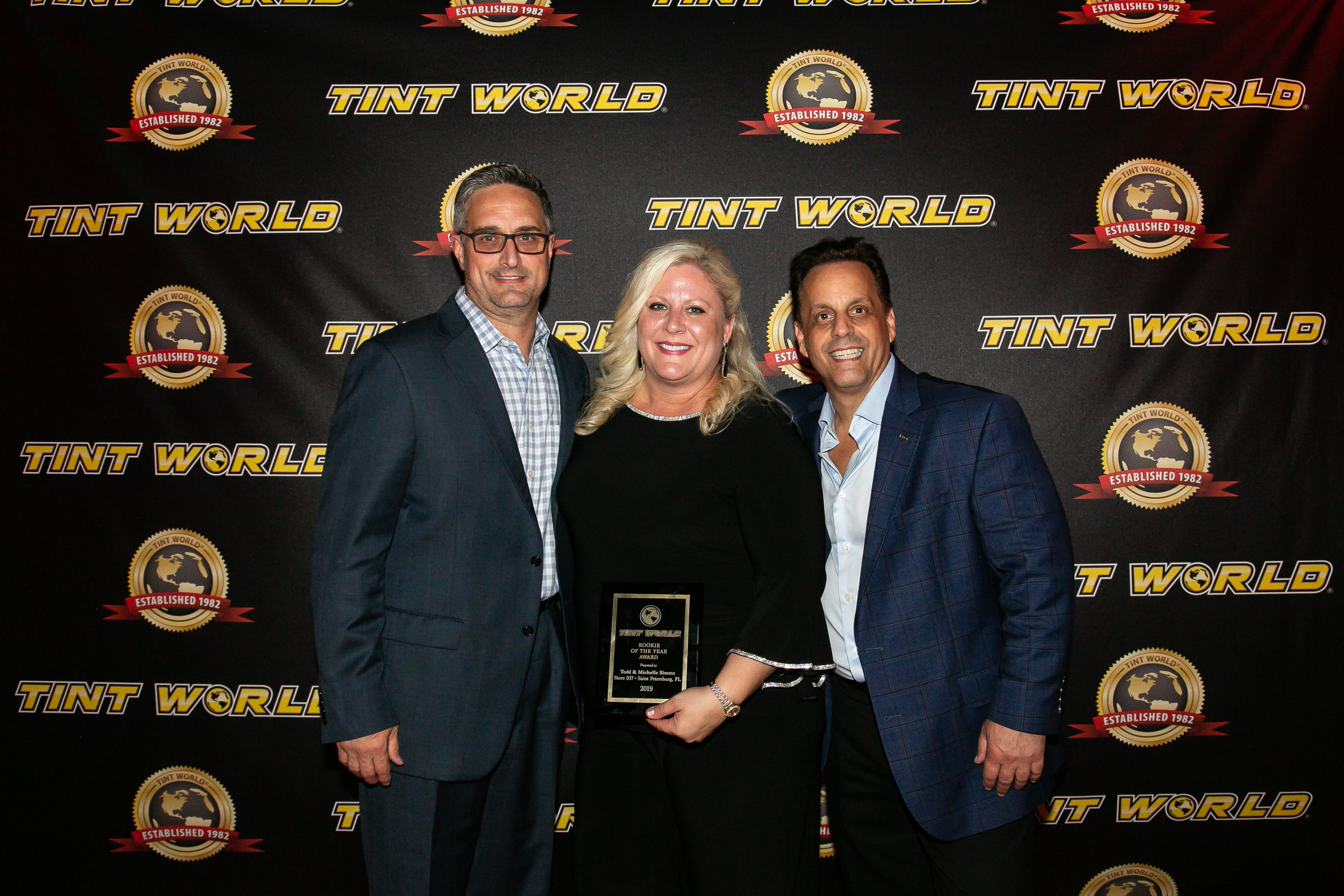 Todd and Michelle Simms came to Tint World® last year from Executive level corporate careers, opening their first location in St. Petersburg, Florida and recently in February 2020 a second store in Palm Harbor, Florida. Their performance has been stellar, earning them "Rookie of the Year" honors, along with a Gold-level Excellence Award and a Social Media Achievement Award at the Tint World® International Franchisee Convention in February 2020.
We sat down with Todd and Michelle to reflect on their year of success for this month's Tint World® Automotive Styling Centers ™, Franchisee Spotlight.
Question: How did you become a Tint World® location owner?
Todd: We started looking at franchise opportunities several years ago because we were both interested in leaving the corporate environment. While living in Southern California, we started a business that specialized in flipping vehicles. We purchased high-end auction vehicles, added upgrades and customization and then sold them for a profit. We are both car lovers, so when I discovered Tint World®, I knew it would be a perfect fit for us, and we could incorporate the industry we love into owning a business.
Q: What was your work experience before joining Tint World®?
Michelle: Todd and I both come from corporate backgrounds. I previously held several executive positions at both Ford Motor Company (Sales & Marketing Division) and Coca-Cola North America (Supply Chain Division), prior to becoming a stay-at-home mom. I completed graduate school in 2008, and I think my background in the corporate world, coupled with the business and management education I received from receiving my M.B.A, has been extremely beneficial in running a successful franchise operation.
Todd: Most recently I was an Executive Sales Director at Cigna overseeing the Southeast region. I managed large employee groups on a national level and was responsible for leading the region's Ancillary Sales Division. Prior to this, I was a multi-unit operator for several national restaurant groups. With my vast sales experience, love for cars and competitive nature, I knew Tint World® would be the perfect franchise to allow me to utilize my sales abilities and entrepreneurial spirit.
Q: What went into your decision-making process to become a Tint World® location owner?
Michelle: We wanted the American dream. We knew we both had the training to be successful business owners and we no longer wanted to work for a corporate giant. We knew we needed to have flexibility that would allow us to have a well-balanced family life because we have two small children. I always knew when I had children that I would stay at home with them until they started school. Tint World® allows me that flexibility, and on most days I end up taking my youngest to work with me.
Todd: I started looking at franchise opportunities, and Tint World® stood out because of their corporate structure and dedication. We also wanted to be a part of a franchise that has tremendous growth potential in an industry that we love! Tint World® provides all the tools to be successful and has a very supportive corporate staff.
Q: Were there any people at Tint World® that particularly inspired you to join the franchise?
Todd: I had several preliminary phone conversations with Anthony Foley, Franchise Development Director. Anthony showed so much passion and commitment, diligence and a vast understanding of franchise operations. He worked with me every step of the way and really helped prepare me for the transition.
Q: Do you have a particular specialty or favorite Tint World® service?
Todd: Nano Ceramic Coating and Paint Protection Film are two of the services Michelle and I really enjoy selling. The protective qualities are the best on the market, and it's easy to speak about with customers because it's a true financial investment in your vehicle. I'm certified in Ceramic Coating, and I perform each and every service.
Michelle: I like these services not only because they offer an incredible product to the customer and unparalleled protection, but they are also very profitable. We hope to really grow this area of the business in the Palm Harbor location now that we have the space and ideal environment.
Q: What kind of car do you own currently?
Michelle: I have the new, extended-length Lincoln Navigator. This is my first kid-friendly vehicle and I love it because there's lots of space, and more importantly TV's for the kids to watch when I need a break!
Todd: I have a 2019 AMG Mercedes. We love cars and have a few other gems in the family: a vintage Aston Martin and a Porsche GT2.
Q: What is your favorite car that you don't own?
Michelle: The Rolls-Royce Wraith because of its elegance and sportiness. However, I'm a Porsche lover at heart. My next car will be a Porsche Panamera (because I need room for the kids, of course).
Todd: The Bugatti Veyron, because it's the ultimate in high-performance speed and style.
Q: What challenges have you faced as a Tint World® location owner?
Todd: One of the biggest challenges we've faced since recently expanding to multi-store ownership is staffing. It's extremely time-consuming, but the right employees are out there. It just takes patience, and sometimes trial and error to get it right.
Michelle: Todd and I own the smallest Tint World® store as far as square footage is concerned (St. Petersburg, FL). We've put a lot of time and effort into finding the right team, and despite our size, our sales have increased significantly year over year. We've had some very large weekly sales numbers, and even made brief appearances in the Top Five weekly sales standings.
Q: What advice would you give a new Tint World® location owner?
Michelle: Follow the proven recipe for success. If you deviate too much from the corporate playbook, it's not going to work. The benefit of having a franchise community is that you're not alone and have access to resources and a diverse team for guidance. We have relied on corporate, as well as the knowledge of other franchisees, and that has been instrumental in our success.
Q: Do you have plans for growth in the future?
Todd: We just purchased our second store, located in Palm Harbor, Florida, in February 2020. We also own the rights to the Tampa Bay market, so we will be building two additional stores in the next couple of years. My goal is to get this second store operating smoothly and profitably, and then moving onto the next location.
Michelle: We have young children, ages 3 and 6, and they often come to work with us; we're a family business. That's the only way we make it work. Hopefully, our next locations will be closer to home, but for now we're looking forward to getting acclimated in our newest store.
If you would like to learn more about Tint World® franchise opportunities, download our franchise kit today!