At Tint World® headquarters, we don't just provide daily support to franchise location owners. We're also constantly looking for ways to position this automotive franchise for future growth.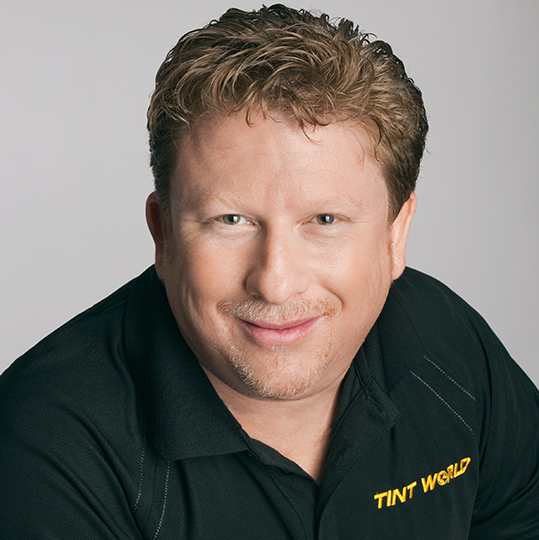 In this Headquarters Q&A, we spoke with Tint World® Chief Strategy Officer Paul Pirro. His industry insight and vision help keep Tint World® growing, innovating, and moving forward in a fast-paced market space.
Question: Tell us about your background. What did you do before joining Tint World®?
Answer: My background is pretty extensive and started when my family was in the music entertainment business. At the same time, while in high school and still working for the family business, I started my career in car audio as an installer. From there, I did everything from installation to sales to management, and by 1994, I had my own shop. I learned how to run a shop effectively and streamlined all processes, so I sold mine and moved on to my next love. In 1998, I started to work for Riva Yamaha and their watercraft race team. Unfortunately, my mother passed away, and I decided to take time off to reflect. I retired early, but I drove my wife crazy at home, so I went back to work for a manufacturer as their Vice President and helped grow their business all the way to the international level. I've also been a consultant for many leading 12-volt companies including MERA and SEMA.
Q: Why did you decide to join the Tint World® headquarters team?
A: I consulted with Tint World® CEO Charles Bonfiglio when I built my car stereo business in 1994. We were always very friendly. Charles was and is still a very energetic person, and I always loved his passion.
In 2008, I went to the SEMA show in Las Vegas, and all of a sudden, I heard, "Paulie!" A guy grabbed me, and it was Charles. At first, I was a contractor for Tint World. In 2012, I became an employee full-time. I decided to join because I remembered Charles' passionate energy, and I just love his energy. He's a great person, and I want to be with Tint World® until I decide to retire with Charles and the Entourage.
Q: What does a typical day include for you?
A: I really love my job because it is fast-paced, diversified, challenging and fun! Our staff is amazing, and I am blessed to be able to work with each one of them. In a typical day, I'll work with Charles on different strategies of the company. He has a vision like no other and gets my mind moving where I never thought I could go, which is amazing. When we get finished talking, my whiteboard looks like an explosion (but it is actually organized chaos).
Chief Financial Officer Jeanette Bonfiglio and I work on planning the annual convention, and her details are impeccable. She could make millions as a wedding planner, I promise you. She has taught me so many lessons the past three years. I have learned to come with a pen and pad and get ready to be schooled. When I work with Senior Accounting Manager Donna Brenner on sponsorship money, she is very detail-orientated to the penny and never misses a deadline, and I value our friendship.
Franchise Operations Managers Joe Iglesias and Carl Montanari have recently been working with me on the display program and manufacturer and vendor partnerships, which has been a big help.
Chief Operating Officer Jeff Stark and I have an odd relationship because we are so different yet the same. People do not know it, but we complement one another well, and we work together very good daily. Jeff and I work closely on store build-outs. Jeff manages the leases and getting the new locations going, then brings me in for the store layouts, and together we do the 3-D CADS. Whenever there is a difficult situation in the company, Jeff and I chat together to come up with a solution. Sometimes we do not agree; however, we always pick the best solution for Tint World®.
I do not want to forget Director of Marketing Jacob Eisenberg, who has recently been working with me more than ever. People may not know that I took him on his first trip to SEMA when he first started. Boy, he was green!
I can't list everyone here, but they all do an amazing job, and I love working with our staff. Meeting with the directors and department heads and staff is always great because I get to work with the departments and add a little bit of my style into the Tint World® culture, yet ensure they take creative ownership while heading up their projects. There's a lot of vision involved from everyone, and definitely a lot of moving and shaking.
Q: How does your job and expertise build value for Tint World® franchisees?
A: One example is my work as vendor manager for Tint World®. When I opened my store in 1994, the average store would have to spend $50,000 to $1 million in inventory, easy. There were no distributors. You had to buy from manufacturers, and you couldn't just order one or two pieces. You had to buy a whole case. Order one part, and before you're done, it's a $20,000 order. You can see how fast that money grows. I negotiate agreements with vendors that benefit the franchisees in the long run. I do things that are small, but in the long term they build value.
In addition, Charles allows me to sit on the Consumer Technology Association board of directors for the Vehicle Technology Division on behalf of Tint World®. I'm the co-chair of the promotions committee. I'm also a two-time contributing writer for the MECP Basic certification study guide manual. This gives Tint World® instant credibility. We do these things like this to help people succeed as Tint World® franchisees.
Q: What is your favorite thing about your job?
A: I love watching the growth of a franchisee. Just for example, Randy and Austin Silver in North Carolina, and Austin Gurba in Kansas. I love seeing stories where young men are growing and succeeding in business and having families. I love seeing people go out there and succeed.
Q: What is a Tint World® experience that really stands out for you? Do you have a favorite moment?
A: I saw Austin Silver working for his dad when Austin was a kid. A lot of franchisees would go to Randy Silver's store to train because Randy was an animal when it comes to selling. We were at our awards convention dinner one year, and Randy asked for a few minutes. He said that Austin would no longer be an employee. We all thought we were seeing him fire his son in front of us. But he went on to say he was making Austin 50% owner in the store. I realized that I'd watched a little kid blossom into a business owner. It was a very humbling experience.
Q: What are your goals in your career with Tint World®?
A: We're a team at Tint World® headquarters. Everyone brings a lot to the table and puts hard work and expertise into what we do. My goal is for our team to continue to grow. I want to make sure we continue to evolve Tint World® and make sure we are customer-centric, stay relevant and don't make the mistakes that a typical brick-and-mortar store makes.
Q: Tell us about your dream car. If you could drive anything, what would it be and why?
A: Ferrari. When I was young, my godfather and his brother got in with Enzo Ferrari when Enzo first started building his race teams and was not as wealthy. The brother would buy all kinds of broken race parts, and he's still making money off the broken parts he bought from them that are in high demand now. Ferrari became part of my heart as a child, and it's a legacy for me. You can buy cars that are more money, but a Ferrari is as nice as it gets, a classy machine in the way it's built, and there's nothing like the sound and purr of it.
And don't forget to mention that Charles has never beat me when we've raced Ferraris in Vegas!
If you want to learn more about our strategy for the future, Tint World® would like to hear from you. Just download our franchise kit for more information.